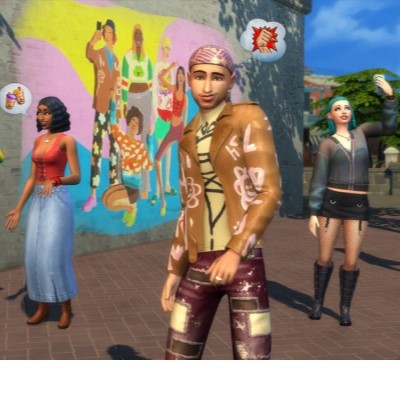 Deliquent Teens | Polish Translation
Teraz twoje nastolatki mogą być trochę bardziej… buntownicze.
Teraz twoje nastolatki mogą uciec (jako królicza nora lub scenariusz), buntować się na różne sposoby, legalnie i nielegalnie, i potencjalnie zostać złapanym wraz z możliwymi konsekwencjami, od zwykłej kary po wysłanie do ośrodków poprawczych dla nieletnich. Jaki będzie los twojego zbuntowanego nastolatka?
Cechy moda:
1. scenariusz nastoletnich złoczyńców
2. nastolatki uciekające z domu (królicza nora)
3. przyłapywanie na przestępstwach
4. przestępczość i konsekwencje
5. egzekwowanie prawa - rozprawy sądowe, kary, prace społeczne, poprawczak, zwolnienia warunkowe, itp.
6. różne przestępstwa - podpalenie, posiadanie nielegalnych substancji, jazda pod wpływem, obraza moralności publicznej, itp.
- Mod jest kompatybilny z grą podstawową
- Dodatki rekomendowane: Być rodzicem, Miejskie życie, Spotkajmy sie, Licealne lata
- Wymagany jest Lumpinou's Mood Pack i General Pie Menus
- Tłumaczenie trzeba włożyć do folderu z modem. Bez moda tłumaczenie nie zadziała.
___________________________________________________________________________________________
Now your teenagers can be a little more... rebellious.
Now your teens can escape (as a rabbit or scenario), rebel in various ways, legally and illegally, and potentially to be caught with possible consequences, from ordinary punishment to sending to juvenile correction centers. What will be the fate of your rebellious teenager?
Mod features:
1. scenario of teenage villains
2. runaway teens (rabbit hole)
3. caught rebelling
4. crime and consequences
5. law enforcement - court hearings, penalties, social work, juvenile centers, probation period, etc.
6. various crimes - arson, possession of illegal substances, driving under the influence, public indecency etc.
- Mod is compatible with basie game
- Recommended packs: Parenthood, City Living, Get Together, High School Years
- Lumpinou's Mood Pack and General Pie Menus are required
- Translation must be put into a mod folder. Without mod, the translation will not work.