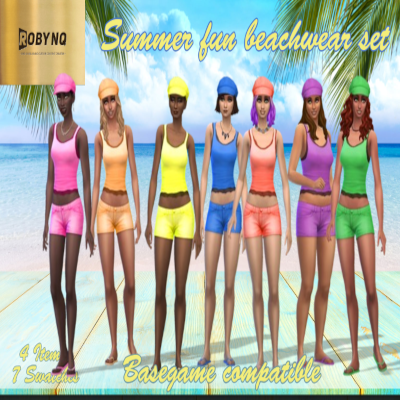 Summertime fun beach outfit set
Description
Looking for a fun and stylish outfit this summer? Look no further than our summertime fun outfit set! Each set includes a trendy top, comfy shorts, cute flops, and a sporty cap in your choice of seven different colors. Whether you're headed to the beach, the park, or just running errands in the sun, this outfit has you covered. Made with high-quality materials for maximum comfort and durability, this outfit set is a must-have for any fashion-savvy summer wardrobe. Get yours today and start enjoying the season in style!
Thank you for clicking on this project.
Please do not re-upload my content and claim it as your own.
Feel free to use it. If you use it Pulblicly kindly mention my Creators page on Curseforge
Thank you for understanding
If you want to see more of my projects kindly visit my page at https://legacy.curseforge.com/members/robynkie/projects
Instructions to install custom content into your game.
1. Unzip the Zip file
2. Make sure your game is not launched
3. Open Electronic Arts in your Documents folder
4. Open The Sims 4 in your Electronic Arts folder
5. Search for the Mods folder
6. Place the unzipped files into the Mods folder
7. Launch your game items will appear in build-buy mode
8. Make sure your custom content box is clicked to ensure cc shows in-game
Hope you enjoy