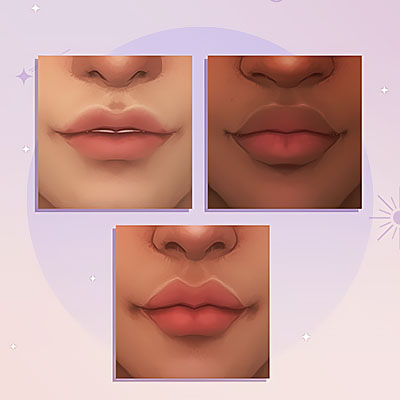 Lip-kit: presets, shape-overlays & mouth-corners
Description
Lip-kit is a set of mouth-presets, lip-overlays and mouth-corners for The Sims 4 (*^ヮ^)
Please read the information!
Overview:
All ages and genders
Works with any skin color
Compatible with all overlay skins, as long as they are not edited specifically to go on top of all skin details
Custom thumbnails
Hair by Enrique ("After") and top by Yunseol ("Pattern two piece")
Details & How-to:
Mouth-presets can be found with the Maxis mouth-presets, or by clicking on the sim's mouth
The overlays and mouth-corners can be found in Skin Details
The lip-overlays can also help erase mouth-corners from skins (f you choose so with swatch-options)
Little tip from me: some lip-overlays look best matched with mouth-corners (*´ᵕ`)
Second little tip: the same overlay can look good on one sim, but then strange on another, so it's smart to test different combinations for each sim, or low-opacity swatches
Files:
Standalone files:
miiko-lip-shape-overlays-01(forehead)
miiko-peachy-mouth-corners(forehead)
miiko-lip-presets-01
*a standalone doesn't need any other CC to work
The other files are not standalone, they are clones of the forehead-files so you can add the overlays & mouth-corners to more slots. They are dependent on the (forehead)-files to work in game.
Please let me know if there are any issues ♡