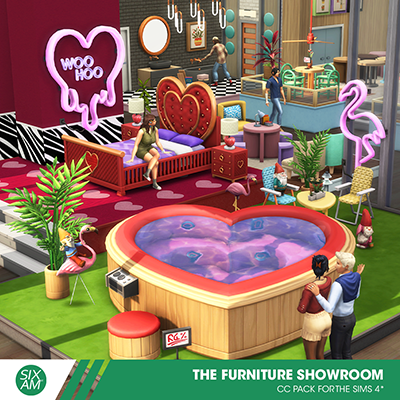 The Furniture Showroom
Over the last few months I have seen some pieces of furniture that I wanted to make but that didn't fit well in any of my previews cc pack ideas. I saved them for a while and I finally found a very cool idea where they all can live together: A Furniture Showroom.
And of course, I always have wanted to recreate the ICONIC Heart-shaped Bed and Hot Tub from The Sims 1 and well, since this is the cc pack of February, I thought it would be appropriate for Valentine's Day.
Along the kinky bedroom and the motel style patio, I created 4 more mini collections that you can use to decorate your Sims houses: a bathroom, a sunroom space, an eclectic reading area and a mini study room.
Please let me know what you think!
Enjoy my CC Pack and don't forget to tag me when you share your creations on social media. 🥰
▶ ABOUT THE CC PACK
38 items all base game compatible.
Confort: 3 Chairs, Sofa chair, Heart-shaped Bed (this is a regular bed, not a mod).
Build: 1 Wallpaper, 3 Carpet Floors.
Decorative: 2 Plants, Painting, Circle Wall Sculpture, Ceiling fan (3 Sizes), Mirror.
Lighting: Desk Lamp, Heart Night Table Lamp, Ceiling Lamp (3 Sizes), 3 Neon Lights.
Plumbing: Sink, Bath Tub, Heart-shaped Hot Tub (base game and functional).
Storage: Empty Bookcase (functional).
Surface: 2 Dining Table, 3 Coffee Tables, Mini Stand Table.
▶ PRO TIP
You can find all my CC or this CC Pack typing "SixamCC" or "Furniture Showroom" in the search bar in the catalog.
▶ MY SOCIAL MEDIA
Follow me on Twitter, Tumblr, Tiktok, YouTube, Pinterest or Instagram.
You can read my Terms of Use here.
Support me on Patreon.
Visit my website here.