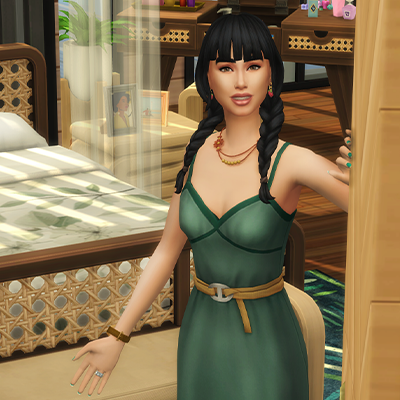 Stylish Wood - Cozy Guestroom CC Pack
Description
It's time for a new collection of wooden furniture! This, as you may know, is part of my Stylish Wood series. In the first edition I presented you a Living Room space, the second one was the Fancy Dinner Dining collection. This time it's all about a guestroom.
▶ ABOUT THE CC PACK
26 items.
Confort: Double Bed Mattress, Single Bed Mattress, Double Bed Frame, Single Bed Frame, Bench, Chair.
Decorative: Fireplace, Canopy (2), Potted Plants (2), Table Photo Frame (2), Rug, Mirror for Vanity Desk.
Lighting: Wall Lamp, Candle, Ceiling Lamp (2 length).
Storage: Dressers (2), Opened Dresser.
Surface: Night Table, Vanity Desk (regular desk).
Special items: Functional Vanity Table (Requieres Glamour Vintage SP), Functional Mirror for Vanity Desk (Requieres Everyday Clutter Kit).
▶ PRO TIP
You can find all my CC or this CC Pack typing "SixamCC" or "Cozy Guestroom" or "Stylish Wood" in the search bar in the catalog.
You can read my Terms of Use here.
▶ MY SOCIAL MEDIA
Follow me on Twitter, Tumblr, Tiktok, YouTube, Pinterest or Instagram.
Support me on Patreon.
Visit my website here.
Read my Terms of Use here.