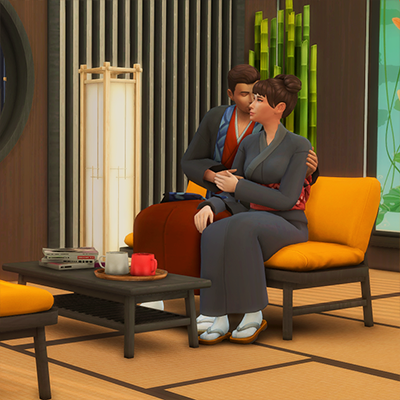 Living Japan - Hakone CC Pack
Description
FEATURES:
59 new meshes
4 categories: bedroom, bathroom, living room and built mode
Base game compatible
Featuring: New bed duvet, 4 new window designs in all sizes (24 in total), Ceiling beams and a lot of free slots
NEW WINDOWS
Much of the Japanese style in a traditional house is this style of windows with wood frame and rice paper, although there are a couple of these options in The Sims 4 I did not like that no light passed through them, that's why I thought about making these new designs translucent. There are 4 new window designs in all sizes (24 in total).
NEW BED NEW DUVET
I had not realized that most beds in The Sims 4 have the same mattress and the same duvet, this time I wanted to do something different with the duvet and I think they look great.
CEILING BEAMS
I love the Japanese ceilings with a wooden pattern that makes it look both traditional and modern.
A LOT OF SLOTS
Something I particularly do not like about EA furniture is that they always limit you in clutter decoration, I like to decorate with things that are my style and many times the furniture has very few clutter slots, not to mention that they do not have any. For this reason my furniture comes empty so that you can place the decoration that you like the most.
▶ PRO TIP:
You can find all my CC or this CC Pack typing "SixamCC" or "Hakone" in the search bar in the catalog.
▶ MY SOCIAL MEDIA
Follow me on Twitter, Tumblr, Tiktok, YouTube, Pinterest or Instagram.
Please consider becoming a patron if you enjoy my cc, your support will allow me to continue making amazing stuff for your Sims. 😊
Support me on Patreon here.
Visit my website here.
Read my Terms of Use here.