IND Restaurant - 3rd Part - The Kitchen Area will start downloading in 5 seconds...
STILL DOWNLOADING MANUALLY??
Join over 10 million players who use the CurseForge app!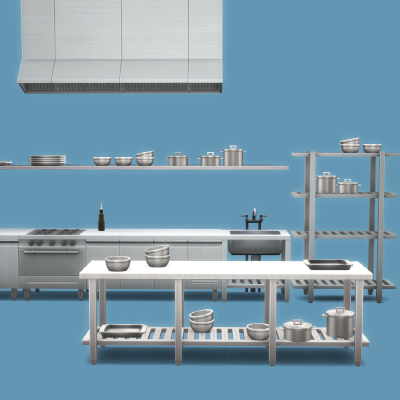 IND Restaurant - 3rd Part - The Kitchen Area
Description
This is the 3rd part of the 3 parts in the IND Restaurant collection.
A collection created to cover the main areas of a good restaurant in an industrial-chic style.

Style choices
In my vision, the Industrial style is a clash, between the old and the new, with a challenge, of what to expose and what to hide.
That's why we see some farmhouse-style and stainless steel counters in the same set, and we see a whole set of exposed electric light fixtures combined with lots of wall and ceiling panels.
I tried to avoid as much as possible the steampunk look that we saw in the industrial style of the 2000s while exploring metal, in different formats, wood, and leather.
About the set
1- The sitting area - 32 new objects
Focused on tables and decor items to play the hide and seek of the industrial style.
2- The bar area - 18 new objects
A bunch of farmhouse elements, to pretend that some cool old counters and shelves were on the place before you started to renovate it.
3- The kitchen area 24 new objects
It's all about inox, the main material of most professional kitchens.
Most items are base game compatible;
The Booths, Host's Station, Chef's Station, and Waiter's station need Dine Out GP to work; There are a lot of decor slots to customize their appearance.
All Wood, Metal, and Marble textures were custom made and all the meshes are modeled on my own.
Best Search Terms:
"Tuds Ind", "Tuds" and "Ind"
Some frustrations
I created custom slots for the table clothes. But for some reason, in restaurants, the waiters didn't serve the food on the tables. So I had to use the existing slots.
The floating shelves had many slots. But a bug caused items in these slots to disappear whenever a change was made to the room. So I had to remove these slots.
The backlit marble and oven door of the chef's station item may look strange in some indoor lighting conditions. I had to play around with the shaders and choose the best balance between them.