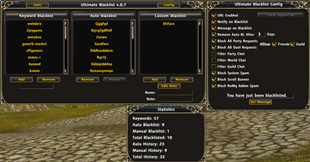 Ultimate Blacklist 0.7
Ultimate Blacklist along side the stats frame and config frame.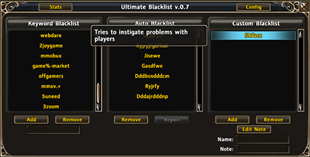 Ultimate Blacklist 0.7 Custom
Showing UBL with a custom added player and player note.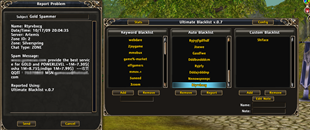 Ultimate Blacklist 0.7 Report Fill
Showing what the auto fill report screen looks like. Links/contact from the spammer blurred as I do not wish to promote selling of gold etc..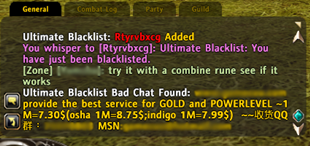 Ultimate Blacklist 0.7 Details
Clicking a player name on the auto list that was added during that same gaming session can show you the details of what the player said to get auto added. Along with this image you can see I have the options enabled to show when a player is added and...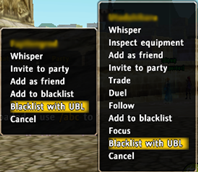 Ultimate Blacklist 0.7 Menu
Easily and Conveniently add a player to UBL Blacklist by right clicking them, or their name in a chat frame.