The Unseen Forces III will start downloading in 5 seconds...
STILL DOWNLOADING MANUALLY??
Join over 10 million players who use the CurseForge app!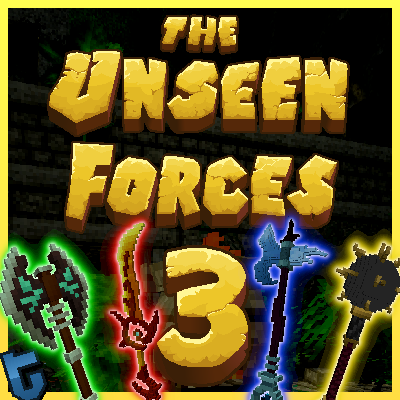 The Unseen Forces III
Description
The Unseen Forces III is here! Will you find the gold statue?
The Unseen Forces III is an Adventure, PvE and Puzzle map. Your principal objective is to find a statue only made of gold. But be careful! During your exploration, many obstacles will come across! Some unseen creatures will hunt you down and deadly traps are waiting for you.
You must be prepared for this mission! Find the chests to collect powerful weapons, increase your armor protection and health by completing optional puzzles, collect the gems to make a better score.
The map is composed of 10 waves of mobs, and one final boss wave.
There are 18 different weapons, divided into 3 categories: Swords, Axes, and Hammers. The swords don't have any combat cooldown, the axes are slower, and the hammers are super slow but do a lot of damage
Each weapon have a rarity level: Common, Rare, Epic, Legendary
To find the best weapons, collect the gems hidden around the map. The gems increase your luck of getting something better on the chests.
You can play this map in 1.13 vanilla between 1 to 4 players, but the optimal experience is between 1 to 2 players.
I advise the use of Optifine for better performances and for the dynamic light