Misa's Realistic (Free, Including Shader Maps!) will start downloading in 5 seconds...
STILL DOWNLOADING MANUALLY??
Join over 10 million players who use the CurseForge app!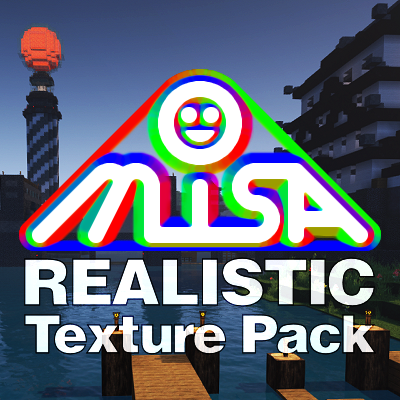 Misa's Realistic (Free, Including Shader Maps!)
Description
Announcements

If you enjoy my work and are able to do so, please consider supporting me on Patreon. Thank you!

Not a huge update this month, but that's in large part due to it being mostly mob work and some complex shader stuff. For this update we've got Goats and Polar Bears, leaving only one mob to go before all mobs are 100% complete! Also I finally got around to adding Christmas chests, which will look awesome and shiny with shaders! For Patrons who would like to play with the Christmas chests early (and all year round) be sure to check the pinned messages in the Patron chat on Discord. There's a lot of other goodies that are only available there, with more on the way! Hope everyone enjoys this holiday season, and thank you to all my supporters, none of this would be possible without you!


As always, the pack is still a work-in-progress, be sure to join us on Discord for all the latest info and fan interaction! My plan is to gradually update the pack back up to 100% by working 40-hour work weeks dedicated entirely to the texture pack. This is only really viable in the long run if I'm able to make a living wage off of this work though as I've no other means of income. Supporting my work through Patreon and/or PayPal Donations is a good way to help out an artist and ensure the flow of content you've come to expect.

Information/Disclaimer
This texture pack relies on multiple advanced features introduced by MCPatcher. As MCPatcher is no longer in development, Optifine is now required to properly use this resource pack. You will need to ensure you have the latest version installed for the version of the game you are on. As a result of the switch from MCPatcher to Optifine, some old features have unfortunately been removed or altered to function within the limitations of Optifine. This pack is also posted on Planet Minecraft. Be sure to give me a diamond over there to help support me.
As always, Be sure to read the installation instructions! This is an HD Pack, it is not designed for un-patched vanilla Minecraft! After you have read and followed the instructions, and you still have trouble with installation, check the F.A.Q. If you still have issues, please post them on the thread or go to my Discord server. Do not PM me with tech support issues regarding getting the texture pack to work.
Features
Emphasis on Realism Without Going Too Photographic - Materials are designed to make sense and resemble the components they're crafted from. Art style is semi-realistic and inspired by old-school RPG's and raycast (boomer) shooters with a medieval-lite setting.
Reduced Eyestrain - Colors are a bit darker and more desaturated (or muted) than vanilla to allow for longer playtime without being too harsh on the eyes.
Mostly Faithful to Vanilla Intent - No strong theme that alters textures so drastically that you're guessing what's what. Builds made in this pack will work well with those playing with vanilla textures but allow for more creative detail with the pack. (See the next feature.)
Advanced Texture Features for Improved Variety - Supports connected textures, random mobs, custom models, and much more. This greatly improves creative options with block placement while making exploration more interesting and diverse.
Easter Eggs - With the increased diversity of blocks and mobs, expect to discover rare little references and surprises on occasion.
User-Supported, But Always Free to All - This is a passion project going as far back as 2009, and as such is something I wish to always share freely. This work is also made entirely possible by support from users like you. With enough support to making a living off of this, I plan to dedicate 40 hours a week to working on this pack with routine updates, including early access/indev stuff for those who support me on Patreon.
Supporting this Work
My work is free to all and I'm happy to keep it that way. However, updates to this texture pack are only made possible by support from people like you. Like many hit by the pandemic, I'm stuck at home and unemployed. I would be greatly relieved to be able to make a living wage by continuing to produce this content. If you're able and willing to pitch in, please consider subscribing on Patreon or donating through PayPal.

Patreon:
PayPal Donation:
Installing the Texture Pack