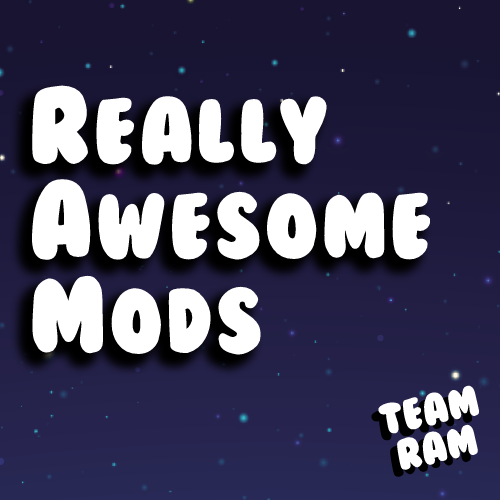 RAM - Really Awesome Mods
Description
Really Awesome Mods aims to be more than just another kitchen sink pack.
We wish to provide you with a pack that is balanced in all aspects, with sensible changes and custom content that will make your playtime feel more rewarding. Don't worry, we don't actually choose mods at random. Every mod in the pack is chosen because it deserves to be there.
So, what can you expect from Really Awesome Mods?
You will start off with in a world uniquely generated by a combination showcasing the beauty of Biomes O Plenty and a breathtaking twist on vanilla biomes with Default Amplified Biomes. We also have an easily accessible mining world with Overworld Mirror so you don't have to ruin your landscape with mining.
We feature mods to satisfy any play-style:
Players who love combat and exploration will find; Dungeon Crawl, Infernal Mobs, Silents Gear, Good Night's Sleep, Level Hearts.
Tech lovers will find; Mekanism, Refined Storage, RFTools, Xnet, Powah!, Industrial Forgoing, Cyclic, Silents Mechanisms.
Magical players will find; Forbidden Arcanus, Elementary Staffs.
Farmers will find; XL Foods, Mystical Agriculture, Fruit Trees, Aquaculture, Harvest.
Builders will find; McCaws Bridges, McCaws Roofs, McCaws Windows, MrCrayfish Furniture, Wallpapercraft, Environmental Materials, I Like Wood.
We also feature a bunch of quality of life mods such as:
JEI, Xaero's Minimap, Peaceful Surface, Oreexcavation, Falling Trees, Snow! Real Magic, Snow Under Trees, Better Bedrock Generator, Dank Storage, Inventory Sorter, More Dragon Eggs.
We are always adding new content so check back often to see how we're doing!
About Team RAM:
Team RAM is a coalition of pack developers who have been building packs since 1.12.2. We are devoted to creating quality modpacks for Minecraft 1.15 and up.
Additional Credits:
This pack contains mods provided by FTB