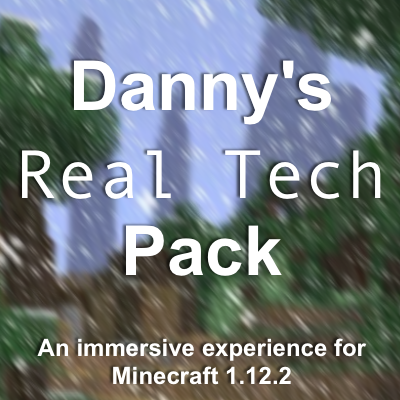 Real Tech
Description
Tech pack designed to feel more immersive and realistic without being cumbersome.
Mods are carefully selected for balance and performance.
Progression feels satisfying while staying true to the sandbox nature of Minecraft.
Custom recipes and progression systems (like ore tripling) that help integrate the mods with interesting mechanics that don't feel grindy.
Now with Quests!!! The quests are designed to guide you without dictating your gameplay or getting in the way of your creativity. Quests will be added that correspond with projects in my Real Tech 3 let's play series.
Mob spawns have been tweaked to add more realistic enemies and animals above ground while banishing the undead and other fantasy mobs to the expanded caves, the Nether and The End.
Survival tweaks add a little more challenge and depth while reducing some constant annoyances.
Custom, biome based, ore generation and prospecting methods along with large, beautiful, more realistic looking caves make resource gathering a fun, explorative, but slightly dangerous experience.
You'll find yourself in a world that feels alive and real.
For a lighter version of this pack designed to perform well on less powerful computers, check out Real Tech Light.
Videos
Let's Play S3 (MC 1.16.6)
Continue watching the series here: Real Tech S3 Let's Play Playlist
Previous Seasons
Mods
NPCs and Colonies
Guard Villagers
Minecolonies
No Mo Wanderer
Structurize
General Tech
CC: Tweaked
Create
Engineer's Decor
Immersive Engineering
Immersive Petroleum
Pneumaticcraft Repressurized
Redstone Tech
Gauges and Switches
PowerCraft-Gates
Tiny Redstone
Tools & Weapons
Mining Helmet
MmmMmmMmmMmm
Tinkers Construct
Transportation
Astikorcarts
Extra Boats
Simple Planes
Ultimate Car Mod
Food
Cooking For Blockheads
Farmer's Delight
Farmer's Delight Compats
Farmer's Delight Cookbook
Farmer's Tea
Simple Farming
Simply Tea!
Inventory
Backpacked
Backpacker
Crafting Craft
Crafting Station
Colytra
Curios
Curious Elytra
Curio of Undying
Drawers Tooltip
Initial Inventory
Inventory Sorter
Mouse Tweaks
PackingTape
Pretty Pipes
Quartz Chests
Storage Drawers
Uppers
Survival
Advanced Chimneys
Apple Skin
Comforts
JRFTL
FTB Chunks
Go Prone
Gravestone
Nutritional Balance
Pollution of the Realms
Rough Tweaks
Step
Swing Through Grass
XP Tome
Building & Decor
Absent by Design
Additional Blocks: Stone Ed.
Bedspreads
Building Gadgets
Camera Mod
Ceramics
Chisels and Bits
Decorative Blocks
Immersive Posts
Inspirations
Macaw's Bridges
Macaw's Doors
Macaw's Roofs
Macaw's Windows
Mr. Crayfish Furniture Mod
Path Under Gates
Platforms
Supplementaries
World & Ambiance
Alex's Mobs
Ambient Sounds
Better Animals Plus
Better Biome Blend
Better Caves
Better Mineshafts
Biomes O Plenty
Fast Leaf Decay
Large Ore Deposits
Item Physic Lite
Now Playing
Pollinator
Quark
Regrowth
Snow Real Magic
Serene Seasons
Sound Filters
Spiders 2.0
Valhelsia Structures
Utility
Akashic Tome
Content Tweaker
Connectivity
Controlling
CraftTweaker
Default Options
Ding
Emojiful
Enchantment Descriptions
FerriteCore
FTB Backups
FTB Quests
In Control!
JEI
JEI Integration
JEI Tweaker
Just Enough Resources
Login Protection
Mod Name Tooltip
More Dragon Eggs
More Overlays
Morph-o-Tool
Natures Compass
Open Loader
Pack Menu
Patchouli
Polymorph
ReAuth
Seed Drop Control
Server Config Updater
Shutup Experimental Settings
Smooth Boot
Spark
The One Probe
Libraries
kotlinforforge
abnormals_core
Mantle
ForgeEndertech
ftb-gui-library
citadel
CreativeCore
shetiphiancore
Bookshelf
architectury
Kiwi
item-filters
Placebo
YungsApi
AutoRegLib
caelus-forge
SuperMartijn642's Config Lib
Server Files
I generally don't post server packs, because it's very time consuming to try to account for all the different server environments. But it's relatively easy to set up a server with the regular pack files. The installation details will depend on your environment, and you'll need a basic knowledge of how to install Minecraft servers, but here's a general breakdown:
Install the correct version of forge (currently 36.2.20)
Grab all the folders from the "overrides" folder inside the pack zip file and put them inside the folder where you installed forge.
Copy the mods from the mods folder in an installed instance of the pack and copy them to the server mods folder.
Remove client only mods that may crash the server. These include: Dynamic Surroundings, Item Physics Lite, Ding, Mouse Tweaks, ReAuth.
Run the forge jar. How you do this is going to depend on your operating environment. For a Linux/Mac environment, I'd recommend running it within a "screen" session. I don't use Windows for servers, so I have no advice there. The java command is going to look something like this:
java -Xms1024M -Xms4096M -jar forge-1.16.5-36.2.20.jar nogui
Questions, Comments, Ideas, Problems
If you're having fun with this pack, tell me about it below. If you're having problems or have suggestions, please post them in the Issue Tracker.