Jojovein will start downloading in 5 seconds...
STILL DOWNLOADING MANUALLY??
Join over 10 million players who use the CurseForge app!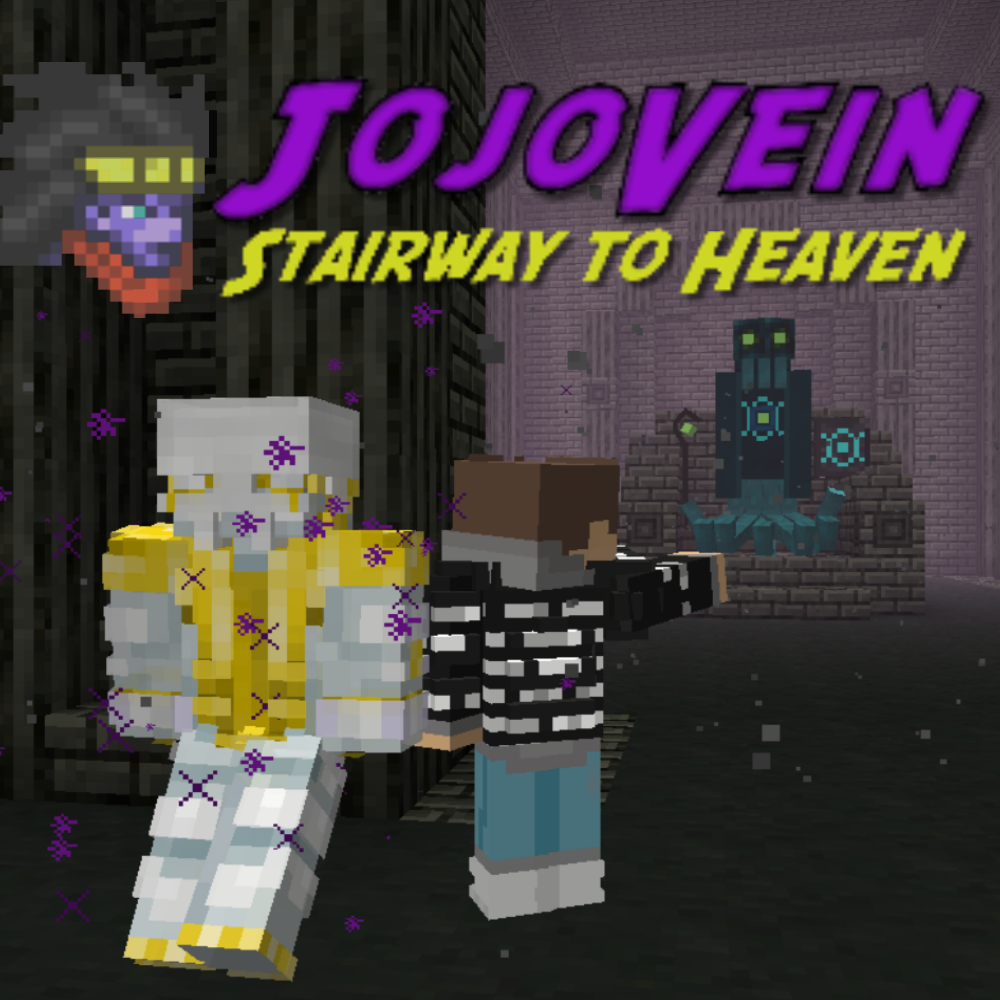 Jojovein
Description
The Ultimate Jojo's Bizarre Adventure Themed Modpack!

Stands, Posing, Music, Vampires, Rituals, and all!

Jojovein has custom mods, an experienced pack dev, and an official server!
-----------------------------------------------------------------------
To get started, craft the Jojovein Compendium, an ingame guide


Jojovein has an official server, the ip is built in to the pack, and this server has exclusive content such as a story mode which already covers the first 3 parts of Jojo! We are constantly updating the server with Raids, Story, and Events.
It has chat integration with the official discord, so you can talk between the server and said discord.

Jojovein is also an official partner for Bisecthosting! You can create your own server with promo code "hydraheads" to get 25% off of your first month. Servers using this code don't have to be for jojovein they can be literally anything!
Click the image above to buy a server! Check the server setup instructions in the FAQ!
This modpack centers primarily around several mods and features. The first of which is Jojovein Stands, a custom scripted mod inspired by Steve's Bizarre Adventure. Obtain a Custom Stand by crafting a STAND ARROW or a Main Series stand by stealing them with PHANTOM WHITESNAKE. To get Whitesnake, open a Necrotic Diary. Its punches steal discs when they land on corresponding mobs that you can view with O. Once you have Stands, you can switch between them at will. You can level up your stands by damaging mobs, and unlock further moves and customization options as they level up. Stands are intended to all be balanced like a fighting game would.
Stand List:
The second major focus mod is Vampirism. With this mod, you can choose either Vampire or Vampire Hunter, each with their distinct advantages and disadvantages. Each has unique skill trees. When combining power systems from this mod with stands, pvp becomes far more rich.

You can even go deeper beyond your racial class and select a subclass, which has its own path of development! Hit the 6 key to do so!
The third is custom coded allies from the Jojo franchise, which you roll on a crusaders phone (5 key) and summon to battle! This replaces MCA, as you can marry and have children with them. They have many unique abilities, and level up the more you use them.
The fourth is Abyssalcraft, which allows you complete rituals and go into extremely hard dimensions. Abyssalcraft serves as a more grindy section to balance the faster paced vampirism progression, and is set to hard mode so that defeating the bosses will require a team or a lot of preparation and skill. The crusaders could not have made it to egypt alone!
The modpack comes with 9 unique Jojo Poses made exclusively for Jojovein.
Finally, the modpack is highly integrated, with custom rituals, recipes, conversions, and custom mods which were made just for Jojovein. There is an accessory system, daily login bonus, unique rokakas, the sword of Luck, etc. It is also optimized to run smoothly on lower end pcs with performance mods!
Additional credits: BluTehGeek made textures for the steel ball and hamon clackers. Musikage provided some sick menu beats.
Sheet Music Boss, Erratic, Amosdoll Music, Piano Tutorial Easy, Kaedalus, Saragenocious Plays for piano covers.
OGG Files:
---
FAQ:
I can't connect to the server, it says mod rejections!
Update your modpack, the process is the same across all curseforge packs, it's a button next to the play button.
What if I want to get unlimited Nova Orbs / unlock all crusaders in singleplayer?
In singleplayer, if you enter creative mode, you can access the dev button on the Crusaders GUI (5 key). From there, you can hit the devmode button to use any Crusader. If you right click a Crusader with a command block, they start leveling up. If you shift right click them with a command block, their level is reset. Bedrock does the same for quest lines. The second dev button sets your orbs to 100 and unlocks the most recent crusader, usually.
What stands are in the Modpack? How do I do X?
Check the wiki link below and the Jojovein Compendium crafted with 1 dirt block. If neither answers your questions, as on the discord.
How to Make a Jojovein Server for dummies:
1. Download the forge 1.12.2 installer from forge.com, select install server, and generate the server normally, or buy a server from Bisect.
2. Add the mods/config/scripts/patchouli folders from Jojovein modpack into the server folder, or buy a server from Bisect.
3. Generate your world from singleplayer Jojovein then upload it to the server, this is to keep crusaders, gamerules, and other scripts.
4. Turn on command blocks on your server, necessary for scripts to work.
---
Official Discord:
Official Subreddit:
https://www.reddit.com/r/JoJoveinMC/
Official Wiki:
https://jojovein.fandom.com/wiki/Jojovein_Wiki