HR: New Beginnings will start downloading in 5 seconds...
STILL DOWNLOADING MANUALLY??
Join over 10 million players who use the CurseForge app!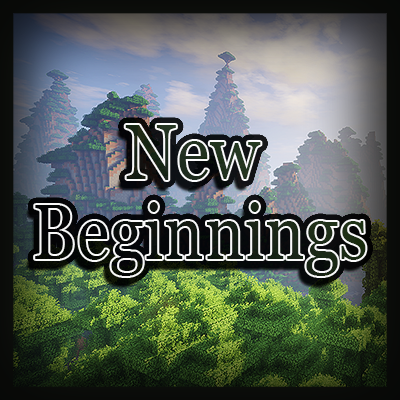 HR: New Beginnings
Description
New Beginnings 1.15.2
New Beginnings is a 1.15.2 modpack that is perfect for people that want to experience mods without getting too complicated.
The focus in creating this modpack was not taking the simplicity of the vanilla game away from the user, whilst giving more reason to explore and craft than usual.
With new biomes, weapons, technology and more, this modpack is perfect for people looking for a vanilla modded experience.
I created this pack to play with my friends because they don't want minecraft to get too complicated.
So if you think this modpack is for you be sure to give it a go and modify where needed.
Use the code Haydennz to receive 25% off your first month!
Wanna play HR: New Beginnings with your friends but don't know how to set up a server? Click the image below!

BisectHosting is the official sponsor of HR: New Beginnings! Setting up a server and installing mods has never been easier. With their automated modpack install, setting up and updating an HR: New Beginnings server is done with a few mouse clicks. Use the code Haydennz to receive 25% off your first month as a new client for any of their gaming servers. I recommend getting a plan with at LEAST 4GB of RAM for my modpack.
Modlist:
Snow! Real Magic!

Fruit Trees

Kiwi

Abnormal Core

Advanced Mining Dimension

AI Improvements

AmbientSounds 3

AppleSkin

Aquaculture 2

AutoRegLib

Autumnity

Better Animals Plus

Biomes O'Plenty

Blur

Bonsai Trees 2

Building Gadgets

Buzzier Bees

Cloth Config

Crafting Tweaks

CraftTweaker

Cucumber Library

Curios API

Cute Kiwi Bird

DefaultSettings

Doggy Talents

Essentials

FallingTree

Fast Leaf Decay

Fish Traps

Goblin Traders

Golden Hopper

GraveStone Mod

Hwyla

IAP

Inventory Sorter

Iron Chests

JAOPCA

JEITweaker

JourneyMap

Just Enough Items (JEI)

Libnonymous

Light Overlay

Macaw's Bridges

Macaw's Doors

Macaw's Furniture

Macaw's Windows

Mekanism

Mekanism Generators

Miner's Helmet

MixinBootstrap

MoreVanillaLib

Morpheus

Mouse Tweaks

MrCrayfish's Furniture Mod

Mystical Adaptations

Mystical Agradditions

Mystical Agriculture

Name Pain

Nature's Aura

Nature's Compass

NetherPortalFix

Obfuscate

OpenBlocks Elevator

Ore Excavation

PackMenu

Patchouli

Performant

Phosphor

Pickle Tweaks

Placebo

Progressive Bosses

Quark

RandomPatches

Refined Pipes

Refined Storage

Refined Storage Addons

Silent Gear

Silent Lib

Silent's Mechanisms

Simple Farming

Snow Under Trees

Solar Generation

Sound Filters

Storage Drawers

Straw Golem Reborn

Swamp Expansion

SwingThroughGrass

The Bumblezone

The Endergetic Expansion

The Loader

The Midnight

U Team Core

Useful Backpacks

Valhelsia Structures

Vanilla Hammers

VanillaTweaks

Waddles

Waystones
My Other Modpacks: