Extremely Optimized (Fabric) will start downloading in 5 seconds...
STILL DOWNLOADING MANUALLY??
Join over 10 million players who use the CurseForge app!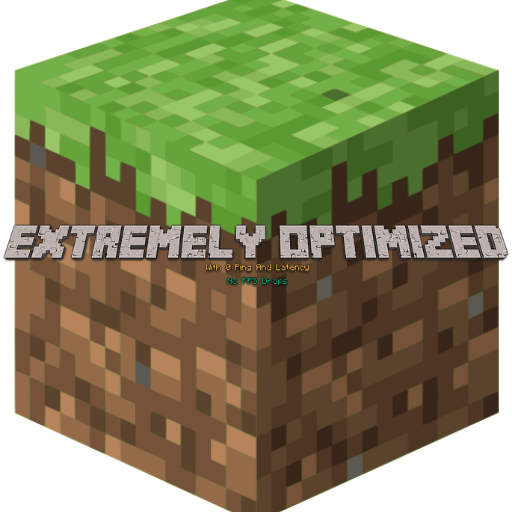 Extremely Optimized (Fabric)
Description

Vanilla
Extremely Optimized

General Description of What this Mod Does :
Immerse yourself in Minecraft like never before with 'Extremely Optimized,' a game-changing mod designed to deliver unparalleled performance enhancements. Wave goodbye to lag, choppy frame rates, and sluggish gameplay as Extremely Optimized revolutionizes your Minecraft experience.
This extraordinary mod leverages cutting-edge optimization techniques to fine-tune every aspect of Minecraft's performance, ensuring a silky-smooth and immersive gameplay experience. Prepare to witness a seamless world unfold before your eyes, with lightning-fast loading times, buttery-smooth animations, and unparalleled responsiveness.
Extremely Optimized takes Minecraft performance to new heights by optimizing resource utilization, minimizing CPU and memory overhead, and streamlining the rendering pipeline. Say farewell to performance bottlenecks as the mod intelligently adjusts game code, eliminating unnecessary background processes, and unlocking the full potential of your hardware.
Key Features:
Banishes lag and stuttering, offering an uninterrupted gaming experience.
Supercharges frame rates, delivering ultra-smooth animations and precise controls.
Highly efficient resource management, maximizing overall game performance.
Compatible with a wide range of Minecraft versions, ensuring broad accessibility.
Easy installation process with detailed instructions for hassle-free setup.
Regular updates and dedicated support, addressing compatibility and performance concerns.
Don't settle for anything less than perfection in Minecraft. Download Extremely Optimized now and embark on a journey where performance knows no bounds. Experience the game as it was meant to be played, with unmatched fluidity, responsiveness, and immersion. Step into a world where optimized performance takes center stage and unleash the true potential of Minecraft!
Installation Guide For Version VS-0.1
This Modpack Can only be installed via Curseforge App
1 Download and Install the CurseForge App
2 Select The Version you want then click on Install with CurseForge App
3 After clicking you will be redirected to another tab where on the top it will say this site is try to open the curseforge app
4 Click on allow
5 The Modpack will automatically start downloading and installing
6 When Done click on play to enjoy your High Fps And LagLess Experience
Compatibility
This Modpack Supports Both Fabric and Forge,Fabric Is Recommended Because it is Better Optimized And Has More QoL(Quality Of Life)Improvements.Install Forge Version Only If you Plan on Installing Other Mods That Do not Support Fabric
This Modpack Does not conflict with any mods you can install any mod without any issues
Support
If there is any issue regarding this modpack feel free to post it in the comments and we will help you there
About
This modpack is a combination of other performance mods to Improve your Ping,Latency and FPS Issues .By installing this modpack you can easily Triple or Quadruple your Game Performance