To install
Tropicraft


first install the CurseForge app!
Step one

Step two

Finish installation
& set up

Step three

To install the mod
click here
Description
Are Vanilla beaches not doing it for you? Are the long hours of mining wearing you down?
Well get ready for the Minecraft vacation of a lifetime!
Introducing...

Dating back to 2011, Tropicraft stands as one of the longest-running mods of the game, and is one of the original dimension-adding mods for Minecraft.
Inspired by a vacation to the lush tropical island of Puerto Rico, the mod's creator, Cojo, and his team, have created an idyllic, charming paradise in which to dream, explore, and let your creativity run free. With native islanders, volcanoes, and a plethora of tropical fauna and flora, the tropics contain everything necessary for an imaginative and restful escape from the doldrums of Vanilla.
Getting to the Tropics
1. Craft a beach chair (available in all 16 wool colors)

2.Craft a Piña Colada (All combinations of pineapples, coconuts, and chunks can create this)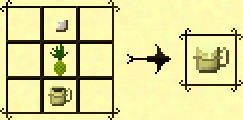 3. Sip your drink in your beach chair at sunset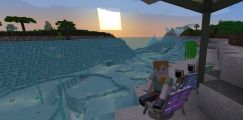 4. Find out what happens next for yourself!
If you wish you include Tropicraft in your modpack or on your server, by all means, feel free! All we ask is that you let us know when doing so if it is a public modpack or server so that we can spread the word and that you give us credit where it is due! Enjoy :)
Questions / Concerns?
If you have a bug report, find us on our Discord or file an issue on Github
If you just want to talk to the mod developers or chat with other people who enjoy the mod, join our Discord!
Tropicraft - https://twitter.com/TropicraftDev
Cojomax99 - https://twitter.com/Cojomax99
Corosus - https://twitter.com/CordonFreeman
tterrag - https://twitter.com/tterrag1098
Mr_okushama - https://twitter.com/Mr_okushama
Gegy - https://twitter.com/gegy1000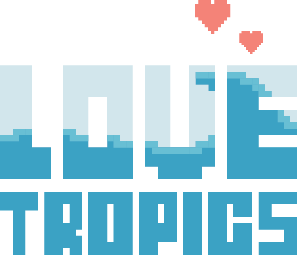 Every year, the Tropicraft devs organize a charity livestream event to raise money for a charity benefitting the Tropics and its people around the world.
If you are interested in joining the stream as a helper, talk to us on the Love Tropics Discord (NOTE: THIS IS NOT THE TROPICRAFT DISCORD, LOOK ABOVE FOR THAT). If you are interested in participating, follow us on Twitter and you will be able to support a good cause while playing your favorite game with the developers of the game, the modders who continue to create quality content for Minecraft, and the livestreamers and youtubers that push that content to the masses.