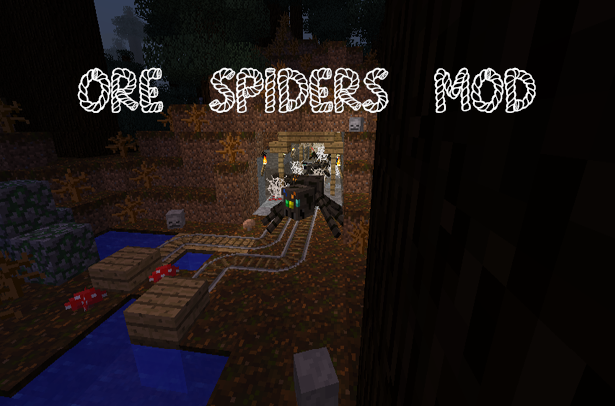 Ore spiders is a mod coded by Bendonnelly1, textured by Vaderman24, and the idea came from a user who goes by the name ThatEnderBlender. The mod adds 11 new spiders to the game, most of the spiders match up with an ore currently in the game, and they drop that item when killed.



Queen Spider Eye


This eye is used to create a Mysterious Potion.

Mysterious Potion


Create this potion in order to summon the spider queen!

Orb Weaver


The only way to get this item is to kill a spider queen. Upon clicking, the orb weaver will throw a orb out that when in contact with a block, will summon a cobweb.

The Coal Spider spawns pretty much everywhere, just like coal ore does.
The Ender Spider will only spawn in the End, as it would be too difficult to fight in the over-world. However, It may change it if people request it.
The Nether-Quartz Spider will only spawn in the Nether.
The Obsidian Spider spawns close to obsidian, usually within a 8x8x8 cube of an obsidian block. They are quite rare because of this spawning condition.
Every Spider has 50% chance of dropping their respective drop, so long as they die by the players sword.
If a Spider were to die by fire or lava, it will not drop anything.
If a Spider dies by a sword with looting, it still has a 50% chance of dropping, but it will drop significantly more.