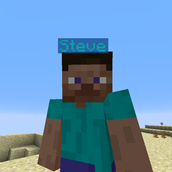 Teal on blue
Now Steve's nameplate is Steve-themed.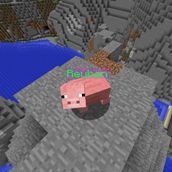 Named mobs
You can keep an eye on your animals' health too.
Steve digs down.
Steve's name gradually turns red as he learns why digging down is wrong.
1.2.0's Vibrancy Update
Here's an example with green for max health and red for min health.
1.3.0's Visibility Update
Here's an example of 2 new options: Tames Always Named and Names Without HUD.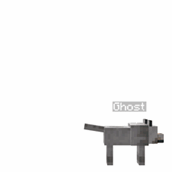 1.4.0 Injured Mobs (click to play)
When an unnamed, nearby mob is hurt, a nameplate appears to show just how hurt they are (disabled by default).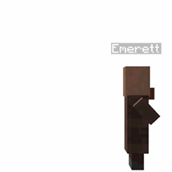 1.4.0 Villagers (click to play)
The nameplates of villagers can be seen without having to look directly at them (enabled by default).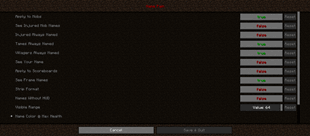 1.4.0 Config GUI (click to play)
Forge 1.14+ now has config GUI on par with Forge 1.7.10 - 1.12.2 and Fabric 1.14+, with new visibility features available on all versions: See Injured Mob Names, Injured Always Named, Villagers Always Named, and Visible Range.