Immersive Vehicles (Formerly Transport Simulator) will start downloading in 5 seconds...
STILL DOWNLOADING MANUALLY??
Join over 10 million players who use the CurseForge app!
Immersive Vehicles (Formerly Transport Simulator)
Description
!!!NOTICE!!!
This mod does not include any vehicles by default! If you are getting a warning message about missing packs, please download one of the fine packs linked in the Vehicle Packs section below! People complaining about "teh notice in mah face" will be ignored!
Now with that out of the way....
WE PROUDLY PRESENT TO YOU: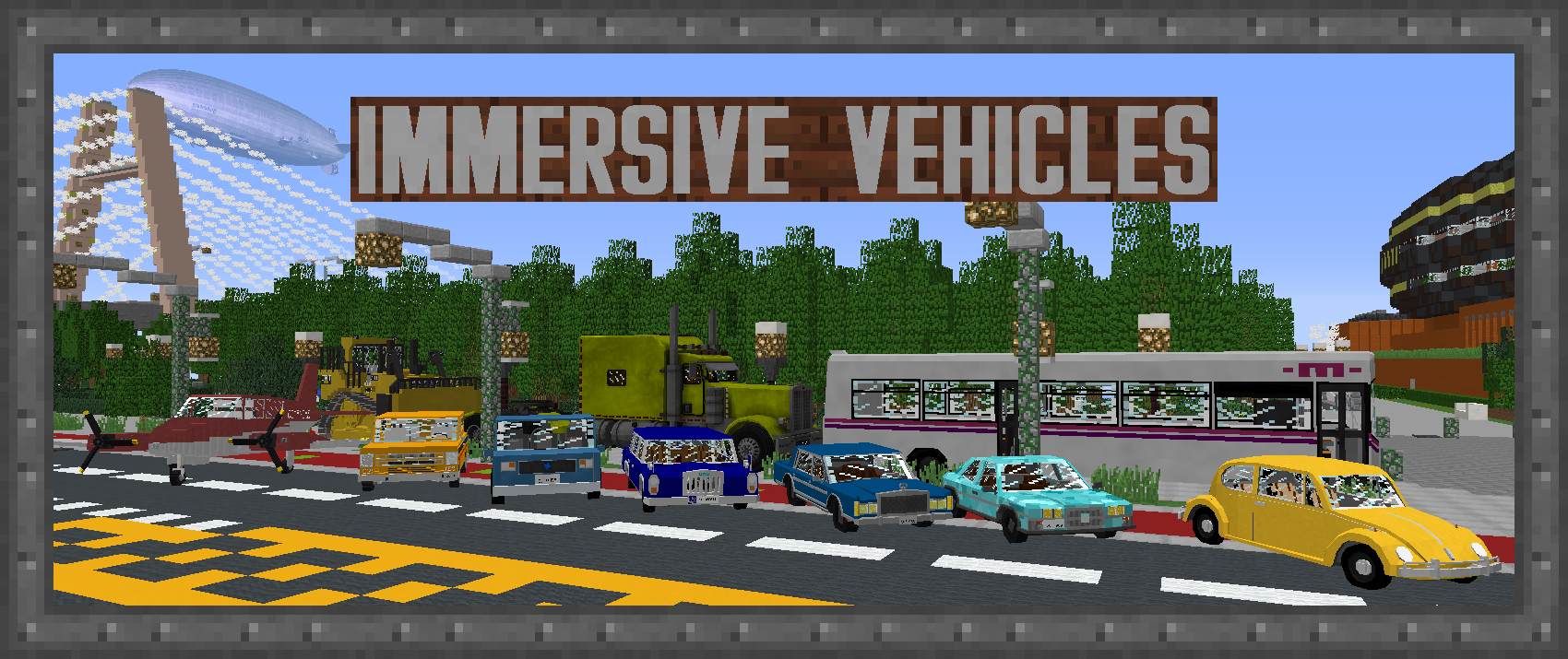 From the folks that brought you Minecraft Flight Simulator comes the all-new Immersive Vehicles mod! This mod is the result of over a year's worth of work and is the continuation and future of Minecraft Flight Simulator.
Packs:
All vehicle packs go in your "mods" folder just like any other mod!
OCP Brand. From the core dev team.
Official Vehicle Set: A small selection of vehicles. Each is designed to show off the capabilities of IV while still fitting into the Minecraft aesthetic.
Waywardcraft Vehicle Pack: A port of the Waywardcraft Flansmod pack. A classic MC vehicle experience. Requires another pack for engines/seats/wheels.
UNU Brand. From Dr_prof_Luigi
Trin Brand. From The Oddly Seagull
Other Brands. From Various Authors
Sign and Decor Packs.
Small, New, and Old Packs.
Features:
Realistic Physics: Like really real. Planes takeoff like actual planes, running out of fuel doesn't make you fall like a rock, and ground physics are more than a vehicle sliding on ice. Plane flight takes into account speed, pitch, angle of attack, weight, engine life, propeller pitch, and much more. Vehicles are affected by speed, slick surfaces, blown tires, and even how many wheels are touching the ground.
Joystick and Mouse Support: Want to use that dusty old flight stick in Minecraft? Well now you can! Want to turn IV into Gran Turismo with a steering wheel? Also an option. IV gives you the ability to completely control any vehicle with any controller recognized as a joystick. If you're one of those people who thinks playing Minecraft with a controller is a sin, but still want a quicker response than the keyboard controls, then try out the built-in mouse yoke system. It's not perfect, but it allows for a flight experience that will be familiar to you if you've used Flan's or MCHeli.
In-Game Manual: Nobody wants to have to leave Minecraft to go look something up on a wiki. On this note IV comes equipped with a manual with details on how everything works in the mod. From how to build your first vehicle, to the specifics on engine care and why your engine is coughing out black smoke, the manual is the definitive guide for IV. Please do read it, as you just might learn something.
Fully Customizable: Maybe you want to have a plane to carry you and your buddy from your main base to a new one. Maybe you want to run ore shipments in the air to avoid the creepers that blow up your nice everythings. IV understands, and is comes with the ability to chose whether or not to equip your vehicle with seats or chests, allowing for numerous combinations of craft. Just don't try putting a chest in the pilot seat. That doesn't work too well...
Pack-based: Rather than having things built-in and forcing you to wait for updates to get new vehicles, IV allows you to expand your selection of vehicles through content packs. We recommend the official content pack, however other packs or even your own creations are welcome! If you're familiar with Flan's pack system you'll feel right at home with IV's.
Working Gauges:IV is proud to offer you the largest selection of gauges available in the modded vehicle market. From altimeters to display height, to heading indicators to display direction you'll find yourself wondering why you ever needed the debug screen to navigate. There are even indicators to tell you the temp and oil pressure of engines and the current voltage of the electrical system. Now you'll never have to wonder if that arrow that was fired at you did any damage!
True Lighting: In the aim of efficiency and making things look cool, IV vehicles are equipped with real lights. No more relying on dynamic lights and their constant chunk updates and TPS-sapping. IV planes use true OpenGL blending to create realistic lighting effects that actually brighten the world around you. (Disclaimer: IV cannot be held responsible for mobs ignoring lights and causing you material or personal harm. Please contact your nearest armory to see if True Lighting is right for you.)
Inter-Mod Support: Rather than making yet another fuel for vehicles, or forcing you to download a mod as a dependency for fuel, IV has chosen to let you define what is a fuel. By default Lava can be use to run engines, but IV includes the ability to use any liquid from any mod as a valid fuel. You can also use pipes to fill up the fuel pump in the mod, allowing you to have a never-ending stream of fuel to supply your vehicles.
Extensive Configuration: Nearly everything in MTS can be configured. From the crafting materials required to make a vehicle, to the choice of rendering the glass on the inside of a car. Forge OreDict is fully supported as well, ensuring maximum compatibility with other mods.
Other Links:
Discord: A great place to interact directly with the dev team and IV fans.
Mod GitHub: Post issues here! Also contains a manual for how to make packs.
Pack GitHub: Useful if you want to make your own pack. Contains the Official Content Pack code which you can change to suit your needs.
Videos:
From time to time we'll release videos demonstrating IV. As we get good ones, we'll post them here. Old videos can be found in the spoiler.


Why the second mod for content?:
There have been a lot of changes from MFS to IV, but one of the biggest is the splitting of vehicles into their own mod. This may seem odd, but it allows other users to make their own vehicles and add them to IV without any interaction from the IV team. Some people say this will reduce quality, I say it will foster a community. We shall see who is right in the long run. If you happen to have a model or two you'd like to see on the IV platform drop by the Discord channel. We'd be more than happy to point you in the right direction!
May your flights be smooth and your rides be swift!
~Don