MCDoom will start downloading in 5 seconds...
STILL DOWNLOADING MANUALLY??
Join over 10 million players who use the CurseForge app!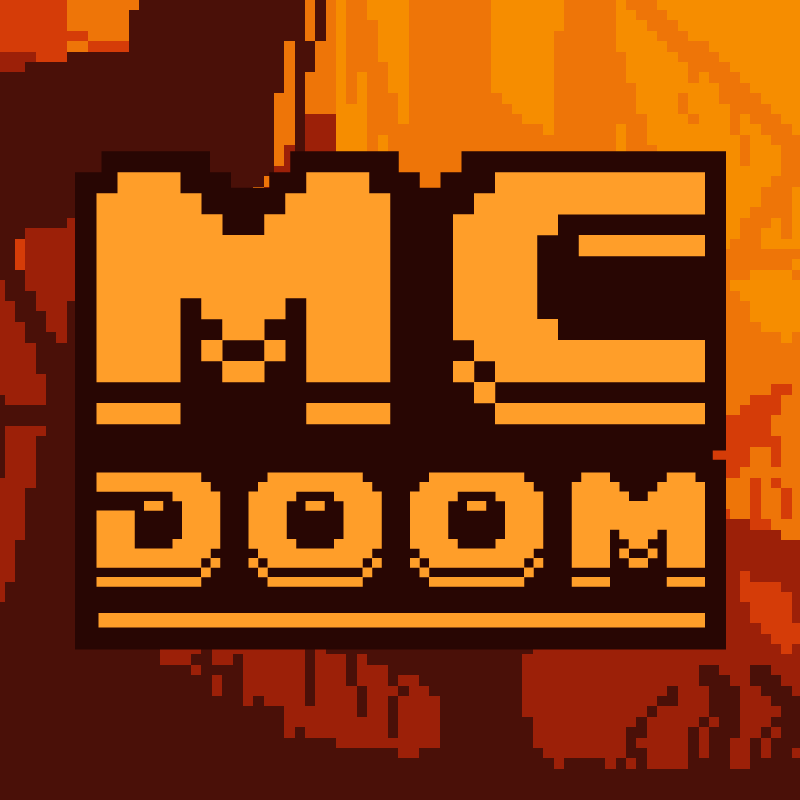 MCDoom
Description

Slayer background without logo is credited to THIS
MCDoom is a thrilling and action-packed mod that is specifically designed to add new elements to the Minecraft gameplay experience. The mod introduces the demonic monsters and diverse weapon selection from the popular Doom series, allowing players to enjoy a new level of excitement and challenge as they navigate through the game's unique world.
The mod is packed with more than 50 different types of demons, each with its unique abilities, strengths, and weaknesses. From the menacing Imps to the powerful Archviles, players will face a diverse range of monsters as they journey through the mod. With such a broad range of foes, players are sure to encounter a challenging battle in every gameplay session.
Moreover, MCDoom also comes with nearly a dozen new weapons players can utilize to defeat these formidable enemies. Whether it's the classic chainsaw or the explosive BFG-9000, there is a weapon to suit every playstyle. Players can mix and match different weapons to create the perfect loadout that will give them the upper hand in every combat encounter.
Additionally, the mod offers a variety of custom armors, with over 20 different sets to choose from. The custom armors provide an added layer of strategy, giving players the opportunity to tailor their gameplay experience and dominate in any situation.


The names and such are owned by id Software, of which I claim no ownership over. This is just a fan mod of one of the most awesome game series to date!
Tools (All versions) and Armors (1.12/1.14) from C-Legend!
Armors also done by Maver! (1.12/1.14)
New Armors for 1.15.2 done by MARCTR0N!
Mobs and Powerups by DenicioC!
Combat Shotgun, Heavy Rifle, Heavy Cannon, and Chainsaw Eternal from elidhan!
Mob and Armor textures also from SillyMakerArcade_89! (1.15.2/1.16.3)
New Crucible Sword/Axe, Chainsaw and Chainsaw 64, a few E1M1 block textures and the Revenant from UnnamedMarine!
Old Crucible Sword/Marauder Argent Axe Model and Textures done by ulnight! Go sub to their new YouTube Channel!
New sprites are done by temhotaokeaha!
New Tyrant model based off the Tyrant model by Creeper2545!
New Classic sprites by Pixel!
New Revenant/Revenant model base by Rayze Sayle! Edit by wolverbyte and myself!
New Gladiator model base by Rayze Sayle! Edited by wolverbyte and myself!
New Dark Lord Armor by MorganFreeguy and Armor sprites by Raven!
Sponsored by BisectHosting
Need a server to play with friends? Don't know how to setup one? Just rent an already configured server from BisectHosting!

Click on the picture above, select plan(at least 4GB), and use my code azuredoom to get 25% off your first month and enjoy playing with your friends!
This mod may NOT be reposted to any mod rehosting websites. #StopModReposts
*All rights belong to their respective owners*