Matthew's Difficulty Mod will start downloading in 5 seconds...
STILL DOWNLOADING MANUALLY??
Join over 10 million players who use the CurseForge app!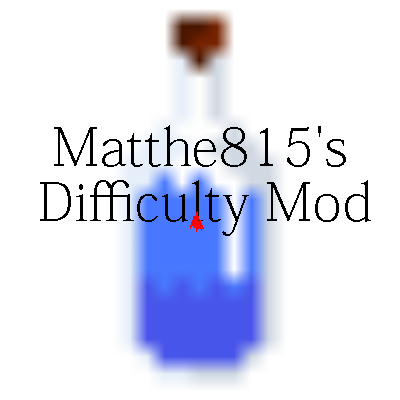 Matthew's Difficulty Mod
Description
A recreation of the now discontinued Tough as Nails, with additional quality-of-life features, and implementations from Extra TAN.
LIEUTENANT IS REQUIRED TO RUN THIS MOD.
Looking for bug-testers. Please join the Discord and send me a DM if interested.
Matthe815's Difficulty Mod is a recreation and revamp of the old Tough as Nails concept.
Using ideas such as thirst from Tough as Nails, Matthe815's Difficulty Mod creates a splash of difficulty into your Minecraft Experience.
Some of the features in includes:
Body Temperature, with complete and automatic support for custom biomes

Thirst, with default support for Harvestcraft, and support for additional custom items

Stamina, an additional limit to actions requiring stamina. With limit/regen speed affected by your current thirst and hunger.
This mod also supports Serene Seasons.


Using my experience in developing addons for Tough As Nails, I'm integrating all of Extra TAN's additional features
into this mod by default. Including the native harvestcraft compatiblity for thirst.
This mod will continue to be updated for as long as possible, and I'm very receptive to suggestion!

FAQ:

Can I use this with Extra TAN?:
The features of Extra TAN are already natively present in this mod.

Can I use this with X?
This mod works with every other mod available. If not, it'll be listed in the "Dependencies" page. Mods that get additional features will also be listed there. If you discover a mod that breaks because of Difficulty Mod, please start an issue with it, and I'll add it to the list.

Can I use this in a modpack?
Absolutely.
Documentation for this mod can be found at this link.