Koratio will start downloading in 5 seconds...
STILL DOWNLOADING MANUALLY??
Join over 10 million players who use the CurseForge app!
Description

Welcome to Koratio, a mod that brings new content and a whole new dimension for the players to explore.

Ever wanted to see a giant unicorn chicken? Or perhaps you have always wanted to climb tall and twisty trees? Your search is over!
From the tall Vareso forests to the coldest of mountains, Fantasia dimension offers you mysterious new biomes to explore and new mobs to discover!
How to get to Fantasia you may ask?
Well, it's simple. Go find a ruby and combine it with an iron ingot to get Ruby & Steel, and use it on a portal made out of lapis lazuli blocks to travel to this new mysterious dimension.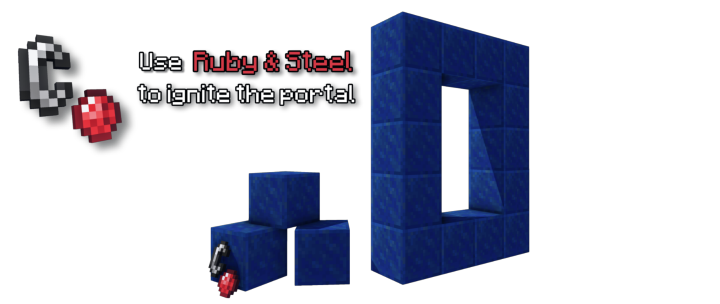 When you reach the other side, you're done for.
Just joking. Upon reaching the other side, you might encounter dangerous new mobs or perhaps you'll find a dungeon filled with shiny & precious loot!
The possibilities are endless.
This mod is still in development! Some of the features might not have yet been implemented to the mod. Stay tuned for more features!

You can join Koratio's discord server to learn more and see what's coming up next! CLICK HERE!

Encountered bugs? Bugs that bite or sting? Game crashes? Contact SetrionGaming in the comments section or in Koratio's discord server and include the details like your forge version, logs an crash report files with your comment and SetrionGaming will get back to you as soon as possible!

All Rights Reserved unless otherwise explicitly stated(22.04.2019 by Sebastian (Ingamename: Setrion).
You ARE allowed to:
Play the mod
Use the mod in your modpack (privately and publicly)
Make videos about the mod
Post the mod on your webside (but only if my name is mentioned and link my forum thread!!!)
Use mod's official images (with correct credit and source information)
You are NOT allowed to:
Claim the mod or its content as your own
Reupload it elsewhere or share unofficial download links anywhere. Always use the link provided via Curseforge.
Kaneka - For the help on much problems i encountered, and for his ton of patience he got with me! xD
Oravaliito - For her incredible help with textures and logos!

LtHoodie - For the textures of some entities!
A few of my friends - For their ideas and motivation!
You - For downloading, playing and supporting the Mod!
You can join our Discord: Click Here!