Farmer's Delight will start downloading in 5 seconds...
STILL DOWNLOADING MANUALLY??
Join over 10 million players who use the CurseForge app!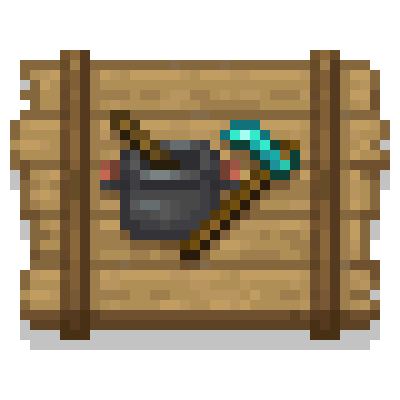 Farmer's Delight
Description
Farmer's Delight is a mod that gently expands upon farming and cooking in Minecraft.
Using a simple cooking system and a few familiar ingredients, you'll be able to prepare a wide variety of hearty meals: from sandwiches to salads and stews, from beautiful desserts to mouth-watering feasts, no ingredient will be left behind in your kitchen!
It also introduces a rich set of utilities: a way to improve the very soil your crops grow in, a brand new kind of tool to scavenge resources with, cute decorations for your builds, and many blocks and items to help you on your adventure!
It's time to farm a little bit of everything!
📖 Getting Started

Follow the advancements! Much of its progression is described through them. By default, press the (L) key to open the Advancements screen.
If you'd rather get a more straight-forward guide, we wrote a Getting Started to help you learn the basics!
🔨 Mod Loaders

Farmer's Delight is a Forge mod, but we currently have a Fabric port being maintained. Click here to check it out!
📝 FAQ
Q. Can I use this mod into my modpack?
A. Yes! Feel free to feature Farmer's Delight in your modpack, and customize it as you see fit for the experience you're crafting. Just keep in mind:
Make sure to credit, and don't claim Farmer's Delight as your own creation;
Always read the changelogs! Minor and major versions can sometimes have breaking changes, which will be explained there.
Q. Which Minecraft versions will the mod be updated for?
A. Farmer's Delight is currently being updated for 1.19.2 and 1.20+. Any other versions are currently discontinued.

Q. Are you going to backport this mod to versions before 1.15?
A. No. This mod will never be backported to older versions. The game's older codebases are entirely different, and usually missing important features this mod depends on.
Please, do NOT ask for backports!
Q. Do you have a Patreon, or similar means of supporting your work?
A. Not currently, but thanks for your consideration! I'm currently well-sustaned by a stable job, and my personal projects are hobbies I work on my free time. My suggestion is to donate your money to more worthy causes, or just treat yourself to a nice lunch. ;)
🌎 Links: