Emoticons will start downloading in 5 seconds...
STILL DOWNLOADING MANUALLY??
Join over 10 million players who use the CurseForge app!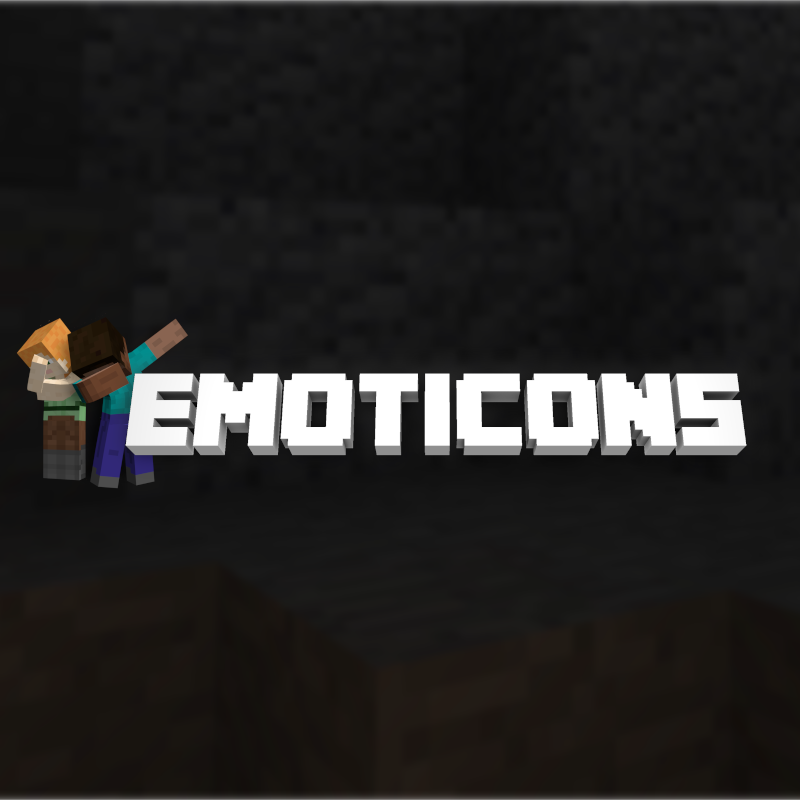 Emoticons
Description
ATTENTION: This mod is no longer being maintained by McHorse. It is now maintained by Chryfi. There are still going to be official updates by Chryfi and other contributors, and there have been task forces that are investigating on porting it. If you also want to contribute to official updates, or to the porting effort, please join the official McHorse's Discord server, so we can communicate with you. Check out the source code.
Emoticons is a cosmetic Minecraft mod which adds custom player animations and emote system. There are 62 emotes which can be triggered by the player using keybinds which come with the mod.
Check out this playlist for showcase of the mod.
Install
Install Minecraft Forge, download the latest stable version of jar file for available Minecraft version. Also install following mods: McLib. Put it in minecraft's mods folder, and launch the game.
After that, Emoticons mod should be installed and will appear in Minecraft's mods menu. If Emoticons didn't appear in the mods menu, then something went wrong.
FAQ
Q: I don't like Emoticons' animations, but emotes are very cool. Can I disable them?
A: You can disable them in McLib's dashboard (Ctrl + 0, check for conflicting keybinds in Options - Controls, if it doesn't work) by enabling Disable non-emote animations toggle option.
Q: Will you downgrade/upgrade mod to other version of Minecraft?
A: No. It's gonna stay 1.12.2 (and 1.8.9) only.
Q: I'm using 1.8.9 version and it says something about "mclib"?
A: You need to install McLib for 1.8.9 so it would work.
Q: I'm playing with my friends on the server, and why I can't see them emote, or they can't see me emote?
A: In order to see other people emote, the server must also install the mod. No mod on the server, no people emoting.
Q: Can you add support with mod X?
A: No, I won't add support with any other mods.
Q: Can I add custom emotes myself?
A: Yes, watch this tutorial video! Those are not synchronized across clients though. You'll have to manually send these emote files to other people.
Q: Can you add custom music to emotes?
A: No, because I have no time/skill to make cool tunes for every emote, and if I use the original audio that would be illegal. However, you can replace the sounds in Emoticons' jar. Keep in mind that these sounds are going to loop.
Q: I saw emotes were used in a Minecraft client. Are they allowed?
A: Before January 18th, 2022, only Badlion Client, Lunar Client, Crystal Client, and a couple of other purchased a license to use my work in their software for profit. Other clients were doing that illegaly (like kraft rise and kristalix clients).
Q: Can I use this code in my Minecraft client?
A: Read the license, and make a conclusion on your own.