EmberRoot Zoo will start downloading in 5 seconds...
STILL DOWNLOADING MANUALLY??
Join over 10 million players who use the CurseForge app!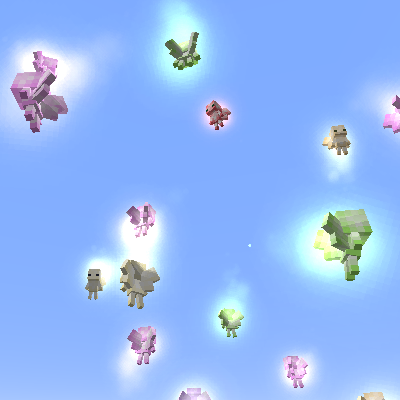 EmberRoot Zoo
Description
Mobs:


Fallen Hero
Rainbow Slime
Block Slime
Sprout
Deer
Golem
Fairy
Sprite
Guardian of Sprites (Boss)

Default loot table is randomly a elytra, totem of undying, or nether star

Timber Wolf
Dire Wolf
Fallen Knight
Ender Mini
Frozen Knight
Owl
Dire Witch
Dire Cat
Cursed Creeper
Config
You can set a mobs biomes, its health and damage, or disable it completely using the config file.
Also, each mob uses the vanilla JSON loot table system.
entityfairy {
   # Try to spawn in every biome.  If false, it will use the whitelist in this config  [default: true]
   B:allBiomes=true

   # Biomes this will spawn into.  Add support for any modded biome here.  [default: [minecraft:ocean], [minecraft:plains], [minecraft:desert], [minecraft:extreme_hills], [minecraft:forest], [minecraft:taiga], [minecraft:swampland], [minecraft:river], [minecraft:hell], [minecraft:ice_flats], [minecraft:beaches], [minecraft:forest_hills], [minecraft:jungle], [minecraft:birch_forest], [minecraft:roofed_forest], [minecraft:savanna], [minecraft:mesa]]
   S:biomeWhitelist <
       minecraft:ocean
       minecraft:plains
       minecraft:desert
       minecraft:extreme_hills
       minecraft:forest
       minecraft:taiga
       minecraft:swampland
       minecraft:river
       minecraft:hell
       minecraft:ice_flats
       minecraft:beaches
       minecraft:forest_hills
       minecraft:jungle
       minecraft:birch_forest
       minecraft:roofed_forest
       minecraft:savanna
       minecraft:mesa
    >

   # Biggest spawn group. [range: 0 ~ 500, default: 10]
   I:maxSpawnCount=10

   # Smallest spawn group. [range: 0 ~ 500, default: 5]
   I:minSpawnCount=5

   # Configures the spawning frequency. Higher numbers mean more spawns. [range: 0 ~ 500, default: 20]
   I:weightProbability=20
}
Details on each mob
Open Source Talk