Dramatic Doors will start downloading in 5 seconds...
STILL DOWNLOADING MANUALLY??
Join over 10 million players who use the CurseForge app!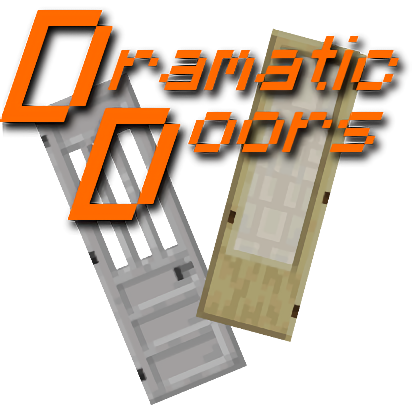 Dramatic Doors
Description
The NeoQuiFabrge version of Dramatic Doors can now run natively on Forge, NeoForge, Fabric, and Quilt!

Now supports over 70 Forge mods and almost 40 Fabric mods! Combined, it supports over 80 mods!
Doors that are barely tall enough to fit your player ... ? Doors that suffocate you when you ride ol' Blackjack the horse through? Enderman discrimination? Seriously?
...
.........
.................. PAH!!
Can we not have intrigue? Whatever happened to the tender grace and elegance of a nice tall door? Where is the drama?!?
Here. I have it. And now you can too.
Gone are the ways of the past - with the new Dramatic Doors mod!

With the modern era of innovations comes a new door type: the tall door.
These 3-block-high doors come in every vanilla variety - Iron, Oak, Spruce, Birch, Acacia, Dark Oak, Jungle, Crimson, Warped, Mangrove, Bamboo, and Cherry!
Craft one by putting 3 of the vanilla variant vertically in a crafting table.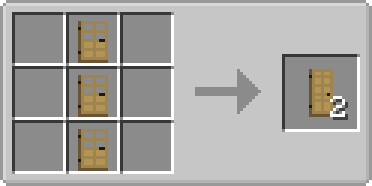 Here are these classy, tall doors in action!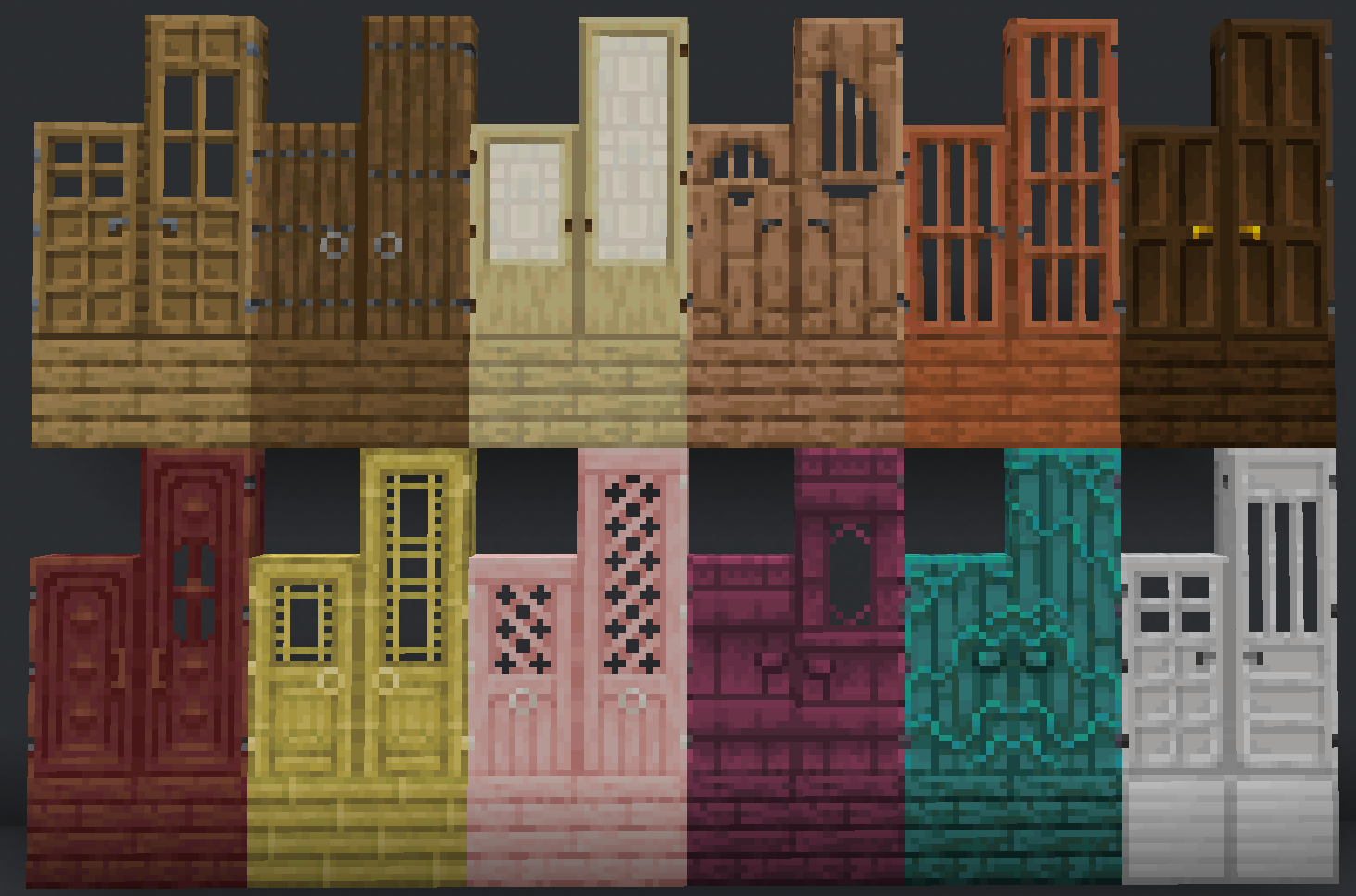 And check out their shorter cousin: the short doors. Those doors are only 1 block tall but has some cool decorative uses! Like a trapdoor but it swings horizontally instead of vertically.
🌟 Mod Features
3-block tall doors you can craft using 3 of those regular-sized doors, producing 2 of those!
Short doors, 1 block tall. Has a lot of great decorative purposes. Available on Forge from 1.18.2 onwards and Fabric from 1.19.2 only currently. Create using stonecutter. If using Woodworks mod, use sawmill for wooden doors.
Supports many mods that adds doors! Including many popular mods like Biomes o' Plenty, Twilight Forest, Macaw's Doors, and many more! That's over 500 tall doors in total!
Waterlogging for doors and fence gates! This is optional and can be turned off if it conflicts with mods.
Allows witches to open doors, thus fixing that strange inconsistency that was never fixed since their release.
Mobs that can open doors also can open tall doors! That means Villagers, Piglins, and Witches!
Available on Forge and Fabric! Fabric version of Dramatic Doors will also work on Quilt!
The All-New Dramatic Doors QuiFabrge Version!
Dramatic Doors QuiFabrge is designed for compatibility across Forge, Fabric, and Quilt mods, hence the support for mods from both mod loader systems. This is essentially a compatibility merge and a massive rewrite of the mod. Please read the graphic below for instructions on how to run Dramatic Doors QuiFabrge. In 1.20.2, this will be renamed to NeoQuiFabrge.

NOTE: 1.19.2 and 1.20.1 do not require Sinytra Connector as of mod version 3.1.0+.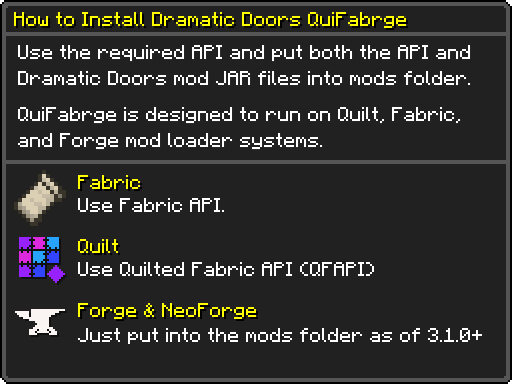 Currently Supported Mods (Forge🔨) - The following mods are enhanced by Dramatic Doors!
Door-altering mods
The big, popular mods
Abnormals
Team Aurora
Backport Mods
Other Mods
Currently Supported Mods (Fabric🧵) - The following mods are supported by Fabric and QuiFabrge version of Dramatic Doors.
Door-altering mods
The big, popular mods
Team Aurora mods
Other Door-adding mods

Currently Supported Mods (Quilt🛏️) - The following mods are supported by Fabric and QuiFabrge version of Dramatic Doors if running on Quilt environment.
🪲 Commonly-Known Issues
Every Compat Crash
Due to breaking changes as a result of Dramatic Doors Fabric and Forge being merged into QuiFabrge, a breaking change was made. As a result, it won't be compatible with Every Compat as of 2.5.10. Please wait until Every Compat is updated for the fix.

Macaw's Doors Crash
Since Macaw's Doors got updated to mod version 1.1.0, the sliding doors got changed. See, the sliding doors still extend door blocks but because of the way states are set up, it won't inherit waterlogging. As a result, it will crash if waterlogging is enabled because the game thinks the sliding doors should have waterlogging property when it doesn't have the property. I have to create a mixin to inject waterlogged property into those sliding doors.
Use the following mod versions for a fix:
2.3.1_3 for 1.18.2 on Forge
2.3.7_2 for 1.19.2 & 1.19.4 on Forge
2.3.7_1 for 1.20.1 on Forge
2.0.1 for 1.19.2, 1.19.4 & 1.20.1 on Fabri

Incorrect Blocks in Vanilla Servers
Turn off waterlogging in the config file. Mixin that adds block states into vanilla blocks can mess up the indexing used for rendering vanilla blocks from servers.
Broken Door & Fence Gate Models
In some cases, there may be an issue with missing models for doors and fence gates. The cause is due to Statement method of injecting waterlogging property and not refreshing the block states.

Use any of the following methods to fix:
1. Turn off waterlogging property in Dramatic Doors config file located within config directory.
2. Remove Statement mod.
3. Use F3+T to reload resources and this will cause the model to be corrected
❓ FAQs

Please read the FAQ before asking questions that are already covered :)
How do I get the short doors?
For Forge, make sure you're at least on mod version 2.3.0+ for Minecraft 1.18.2 and up. For Fabric, make sure you're at least on mod version 2.0.0+ for Minecraft 1.19.2 and up. You can use stonecutters to cut doors into short doors but if you have Woodworks on Forge installed, the short doors will use sawmill recipe instead.

1.12.2 Backport?
No! Too much work and it becomes a nightmare to support multiple versions.
Try MalisisDoors
if you need your fix of large doors.
1.7.10 Backport?
See the answer for 1.12.2 backport. It's still a no.
Big Doors
has your fix if you want that for 1.7.10.
Beta 1.7.3 Backport?
Be careful what you wish for. Anyways, answer is still a no.
Macaw's Doors Support?
It's finally here for Forge and Fabric on 1.18.2 & 1.19.2+!
Chipped Support?
It's also finally here for Forge and Fabric on 1.18.2 & 1.19.2+!
ManyIdeas Doors Support?
It's also here, kind of! Naturally, the tall version of the doors will be flat though. Perhaps this can be revisited in the future.
3x3 Doors?
While it would be nice, it would be difficult.
Try ManyIdeas Doors for that.
The mod isn't working! There are conflicts.
Try checking the config file. You can disable waterlogging for doors and fence gates for compatibility.
Blocks are messed up in vanilla servers. Help!
Again, try disabling both waterlogging. This should resolve the issues.
Bedrock Edition?
I wish. If you would like to try to bring Dramatic Doors to Bedrock Edition then by all means be my guest!
Can I add this in my modpack?
Yes, you can! :D
Modrinth?
Yes! We have a page for that.
See here!
Support Me!

You can support me on Ko-fi: https://ko-fi.com/kitteh6660
100% optional! It means a lot to me. Thank you for the support! <3