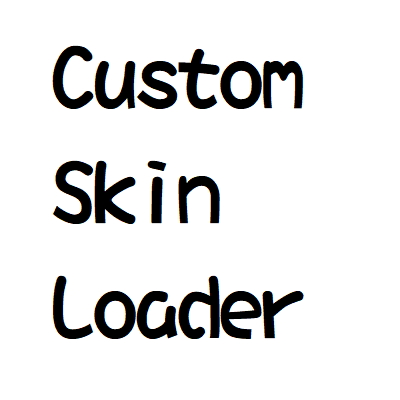 CustomSkinLoader
Description
If you like this mod or think it's useful, could you give me a star on GitHub?
How to Use
Please see it at GitHub.
You can chat with us in Telegram: https://t.me/CustomSkinLoader
Install Guide
Download the jar named with "Forge" for Forge or "Fabric" for Fabric.
Put the jar into ".minecraft/mods" folder.
The jar can be used in 1.8-1.16.5.
What's this?
Custom Skin Loader mod for Minecraft.
It's a mod which can load skin from any online source or local source.
What can you do with it?
- Restore official skins
- Use skins offline
- Load skins from 3rd-party site
- Even load skins from your computer
- Make a dynamic skull
- Apply HD and transparent skins
- Do what you can imagine with skins
Feature
Plenty of Skin Load API Support and Customizable Skin Load List
You can use this feature to customize your skin load list so as to load from any skin server you want.
If you are the owner of skin server, you can use CustomSkinLoader to load skin from your server if one of the api has been actualized.
In the default list, we restored skins from Mojang. And if you need upload skins to 3rd-party source, you can put it into LittleSkin if in China, while ElyBy is recommened for other users.
HD Skins Support
Even though there is no Optifine or MCPatcher, CustomSkinLoader has fix this problem.
You can easily to get a better view in skin.
Skull Support
Fixed skull load bug, and Dynamic skull is supported.
Profile Cache
Cache profile into file, and it can be used without network.
Local Skin
Load skin without skin server.
Furthermore, by using this function you can preview your skin in game and even change default skin and model.
You can load local skin by using any API(excluding MojangAPI).
Transparent Skin Support
The problem of rendering incorrect texture has been fixed.
Spectator Menu Fixed
By using this mod, you can see correct avatar of players in Spectator Menu rather than steve and alex.
FAQ
- Q: My friends can't load my skin!
A: CustomSkinLoader is a client mod, so make sure your friends also install it and you are not using a local skin.
- Q: Default 3rd party online skin website.
A: Arranged in the default load order: LittleSkin BlessingSkin Elyby SkinMe GlitchlessGames
- Q: How can I modify configurations of CustomSkinLoader?
A: The config file is .minecraft/CustomSkinLoader/CustomSkinLoader.json . Unfortunately, there is no way to modify the CustomSkinLoader configuration file in the game currently, so you need to manually modify it by using a code editor (e.g. VSCode). However, we have a website to modify the configuration file online, you only need to import and modify your current configuration file.
- Q: What is the meaning of each item in the config file?
A: There is a document written in Chinese.
- Q: CustomSkinLoader always load Mojang skins instead of custom skins.
A: CustomSkinLoader has the highest default priority for loading Mojang skins, so you should modify "loadlist" in config file.