Custom Pets will start downloading in 5 seconds...
STILL DOWNLOADING MANUALLY??
Join over 10 million players who use the CurseForge app!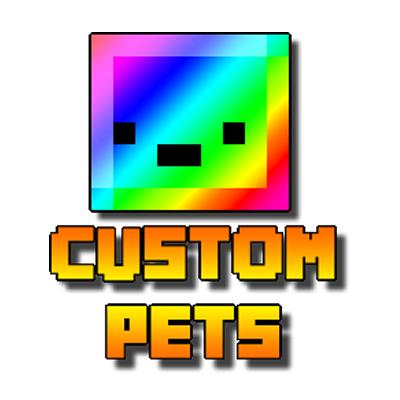 Custom Pets
Description

Custom Pets - 1.0.5 version for Forge 1.7.10
If you find any bugs, please report them and help to make this mod better!
Known issues can be found here: https://github.com/capnkirok/Custom-Pets/issues
Support Voxels! Become a Patreon!
Purplicious_Cow

One Pet to Rule Them All!


Make your own Custom Inventory Pets!

Gather Ability Cards from killing mobs (see Card Locations below) to learn new abilities. Stronger mobs drop rarer cards.
NEW: Pet-O-Meter item added in 1.0.4 to help you find Ability Cards in game

Over 50 in-game abilities to chose from, including Passive, On Attack, World, Active, and Area of Effect

Level Up your Custom Pets to make your abilities stronger

Choose your shape from a given set of Pet Templates, then choose your Colors.

Choose the food your pet will eat

Choose the sound your pet makes when it is hungry

All abilities, textures, colors, eating, and sounds are LIVE, DYNAMIC, and IN-GAME
If you use Optifine, please update to the latest version
DOES NOT REQUIRE INVENTORY PETS
Powerful Config
Choose the Drop Rate of Cards (easy, normal, or hard)

Choose Card Drop Types (biome-based, or mob health based)

Determine the difficulty of Upgrades (easy, normal, or hard)

Determine the difficulty of foods (nuggets or whole items)

Choose to have negative AOE effects affect other players (for PVP)

Choose to not use Ability Cards at all, and play the game with all abilities available

More!
The Randomizer (in game fun)
Gives you a random name, texture, colors, food, and sounds

Win prizes for rare combinations
To access your Custom Pet GUI, simply press G
Besides gathering ability cards from killing mobs, abilities are fully unlocked in Creative Mode, or if you disable ability cards in the config.
Showcases:
1. Choose your Name and Abilities!
2. Choose your pet Food and Sound!
3. Choose your pet Texture and Colors!
4. Randomize your pet for fun and prizes
5. Custom Pet recipe