Catalogue (Fabric) will start downloading in 5 seconds...
STILL DOWNLOADING MANUALLY??
Join over 10 million players who use the CurseForge app!
Description
This is the Fabric version of Catalogue, a Forge version

is also available!

📖 About:
Catalogue for Fabric is a port of the original mod but has been modified and adapted specifically for Fabric. Catalogue provides a menu that displays a list of all mods installed, which can be accessed from the main menu or in-game. The new menu makes it easier to search installed mods, submit bugs and see relevant mod information. Since Catalogue is also available for Forge, this mod allows you to have a consistent experience regardless of the mod loader. Catalogue features a non-intrusive API for developers to open a configuration screen for their mod or even provide them for other mods.
🔧 If want to add support for Mod Menu's config entrypoint, install
Menulogue

📦 Developers:
Catalogue uses the icon definined in your fabric.mod.json as the icon shown next to your mod in the list, which means your mod is likely already supported. However Catalogue has a few extended options if you would like to further customise the branding for your mod and specify a config screen. Catalogue uses a non-intrusive API, which means you do not even need to include it in your workspace or even depend on the mod. To learn more about the features of the API, see the developer help page.

📷 Screenshots: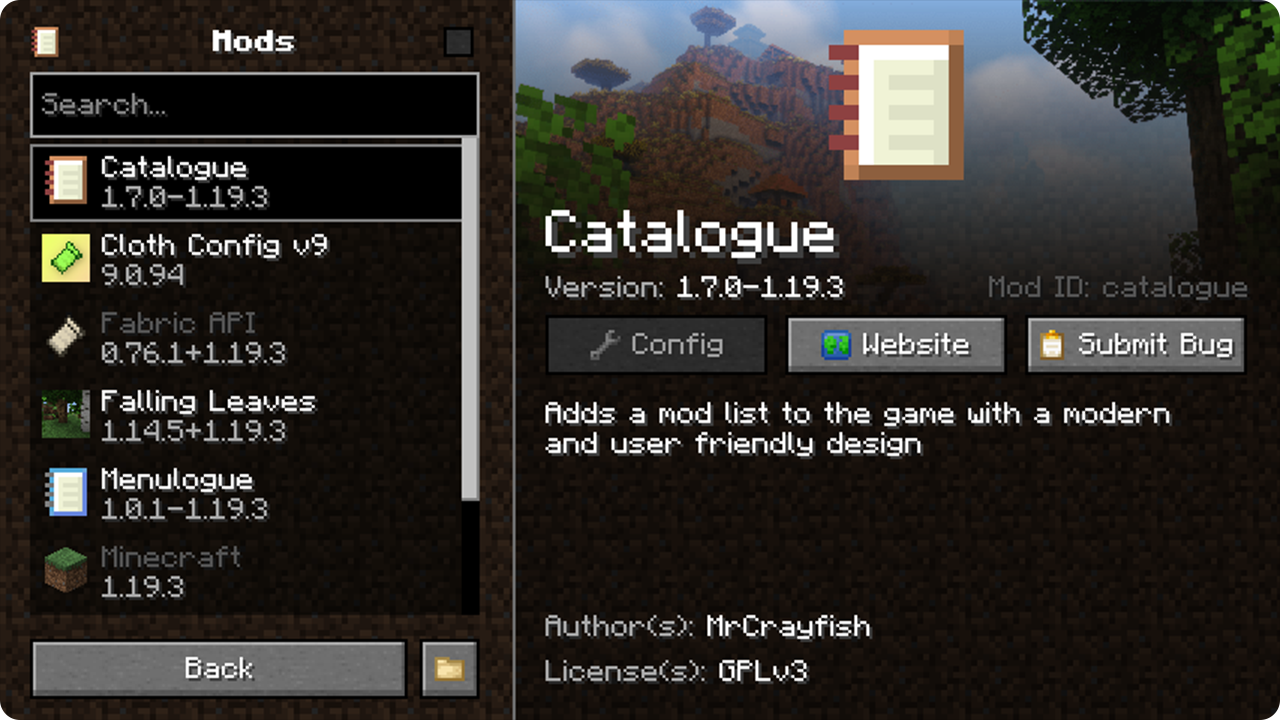 🙋‍♀️ Need Support or Want to Follow Mod Development:
The comment section isn't great for support, which is why MrCrayfish recommends you join the

Discord community. You can get help installing and configuring mods, resolving crashes and more! Plus you'll also get access to news about mod updates and development (before anywhere else!). Click the banner below to join 🔽