Botany Pots will start downloading in 5 seconds...
STILL DOWNLOADING MANUALLY??
Join over 10 million players who use the CurseForge app!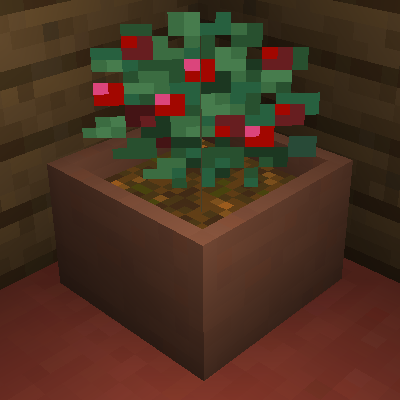 Botany Pots
Description
This mod adds the Botany Pot which is a block that can grow all kinds of crops. The Botany Pot can be used for decoration, and to also make farming certain types of crops much easier. This mod was inspired by Davenonymous's awesome Bonsai Trees mod.
Features
Harvesting a crop in a Botany Pot will automatically replant the seed.
Hopper Botany Pot upgrade allows the pot to harvest itself and put items in a chest or other block with an inventory.
Seventeen different colors!
Extensive datapack support for adding new crops, soils, and fertilizers.
Extensive support for CraftTweaker to allow removing, modifying, and adding crops, soils, and fertilizers.
Getting Started
First you need to craft the Botany Pot. Then you must think about the type of crop you want to grow and the soil it grows in. There are many kinds of soil blocks and certain crops will need certain soils. A good example of this is wheat growing in dirt and nether wart growing in soul sand. Once you have the soil and seed for your crop simply right click the block with your soil and then your seed. This will start the growth process for your crop. The crop may take a while to grow, you can speed it up by right clicking with bone meal and other fertilizers. Once the crop is done growing right click it to harvest and automatically plant another. To remove items from the botany pot you can sneak and right click the block with an empty hand. Breaking the block will also work.
While this mod may seem simple on it's surface, there are many technical details involved. For those who would like to get a better understanding of the mod you can read the Technical Information page on the wiki.
Mod Support
This mod uses predefined json files to add support for crops. These json files let you do things like define soils, fertilizers, and new crops. Mod authors and servers can easily add these files to their data packs to customize crops. Additionally users can create and share their own data packs to enable a broader range of mod support. If you would like to add new data for the mod please check out the wiki for more information about the mod and where to get help.
Currently Supported
Biomes O' Plenty (15 crops, 3 soils)
Botania (32 crops, 7 soils, 1 fertilizer)
Buzzier Bees (13 crops)
Metal Bushes (6 crops)
Mystical Agriculture(43 crops, 5 soils, 1 fertilizer)
Harvestcraft (78 crops)
Peanut Mod (1 crop)
Quark (1 crop, 1 soil)
Simple Farming (34 crops)
Snad (2 soils)
XL Food Mod (6 crops)
Like the mod and want to support me?


This project is sponsored by Nodecraft. Use code Darkhax for 30% off your first month of service!