Bigger Reactors will start downloading in 5 seconds...
STILL DOWNLOADING MANUALLY??
Join over 10 million players who use the CurseForge app!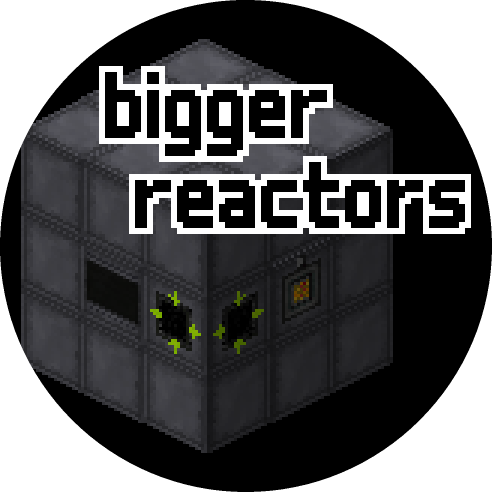 Bigger Reactors
Description
Bigger Reactors is the official continuation of the original Big Reactors mod, by Erogenous Beef.

Some things may not work the same as the original, and bugs are to be expected. If you find any, please report them on the Github Issues page, NOT here! Do read through the list first, though, as your bug may of already been reported.

You want power? We got power. Bigger Reactors is an energy generation mod based on the original by Erogenous Beef. Semi-inspired by real reactor designs, this mod allows for mix-n-match reactors to generate lots of power. Each block you place can change the overall performance of a reactor.
• Higher fuel efficiency? Yep.
• More power? Uh-huh.
• A giant reactor just to flex on your friends? Sure.
All you need to get started is some reactor casing, a power tap, access port, fuel & control rods, and terminal. Then just pipe/hopper in some Yellorium or Blutonium, flip the switch, and you're off!
Need more power? Just build some Bigger Reactors.
As of version 0.5.0, BiggerReactors has moved forward on Big Reactors' roadmap, see the wiki for the most up to date information on the mod.
Wiki: https://biggerseries.net
Discord: https://discord.gg/K64HC88
The Quartz library is required starting with BiggerReactors 0.6.0-beta
The Phosphophyllite library is required starting with BiggerReactors 0.1.0
This project is licensed under the LGPL v2.1 License.