ats nissan titan warrior 2017 will start downloading in 5 seconds...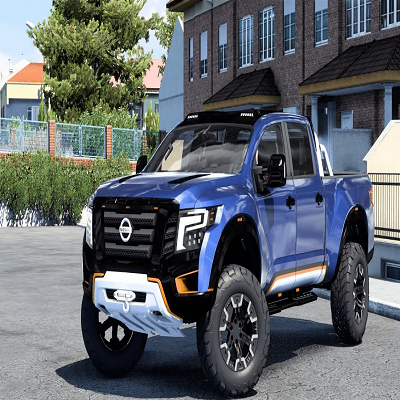 ats nissan titan warrior 2017
Description
Disclaimer
This project was transferred with no original owner.
If you claim this project as your own, and can provide sufficient proof of that, please contact us via this form.
https://forms.monday.com/forms/52cb329380
Changes in v1.1:
– Fixed the glass rain issue
– Physics has been corrected
– Fixed the issue of glass glare
– Fixed the glass reflection issue
– Fixed the mirror glare issue
– Fixed the problem of not appearing in the mirror in the evening
Nissan Titan Warrior 2017 – is a full-size pickup truck introduced by Nissan as a concept in 2016. The Titan Warrior can be called the Japanese "answer" to the famous American pickup truck Ford F-150 Raptor. The Nissan Titan Warrior passenger car mod for Euro Truck Simulator 2 was created using a highly detailed three-dimensional model, the authors qualitatively recreated the original interior of the cabin with the prescribed full-fledged animation.
Features Nissan Titan Warrior 2017:
– independent car model
– High quality 3D model
– High quality detailed exterior
– High quality interior
– the model has own wheels
– the model has own interior
– Correct car proportions
– working lights
– working mirrrors
– the character is correctly sitting in the driver's seat
– correct position of the Nissan logo
– the choice of body color / metallic paint
– Tuning and accesories present
– The correct position of the player
– Supports all major functions of the game
– buy from Acces Mod dealer
Tested on game version 1.43.x